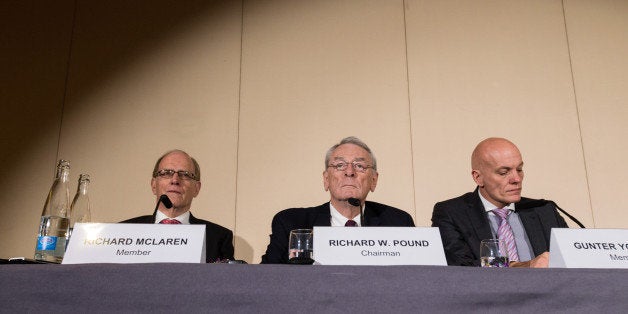 By Vladi Vovcuk and Jacob Steinblatt
The 323-page report, released on Monday by the World Anti-Doping Agency (or WADA), implicates athletes, coaches, trainers and athletic institutions in a widespread drug-cheating program. It lays out how Russians competing in track and field, wrestling, lifting, and other sports used performance enhancing drugs at an international level -- and how government officials turned a blind eye. The reports' charges may lead to a ban on Russian athletes at future events, including the 2016 Olympics in Rio.
Russian journalist Dmitry Guberniev on Match TV, a national sports channel, made a disparaging remark about WADA's chairman Dick Pound. Pound had said earlier that "doping probes in Sochi might have been manipulated, however the agency doesn't have the evidence to prove it yet." Guberniev responded by saying, "I met Pound on many Olympic games. You know what, he always seems to me like a woman, but I don't have the evidence to prove it yet."
Translation: "Is this bating Mutko or a provocation before the 2016 Olympics?"
Ответ Мутко комиссии WADA о махинации допинг-пробами: Летс ми спик фром май харт. Фак йор допинг проба энд фак йор комитет. Виз лав.

— Wylsacom (@wylsacom) November 9, 2015
Ответ Мутко комиссии WADA о махинации допинг-пробами: Летс ми спик фром май харт. Фак йор допинг проба энд фак йор комитет. Виз лав.

— Wylsacom (@wylsacom) November 9, 2015
Translation: "And of course only Russian players are using dope. And it doesn't matter that other players around the world have been caught?"

Translation: "Let's be honest: The whole sport is on doping. But not everyone is accused of it."
More Stories from Vocativ:
REAL LIFE. REAL NEWS. REAL VOICES.
Help us tell more of the stories that matter from voices that too often remain unheard.