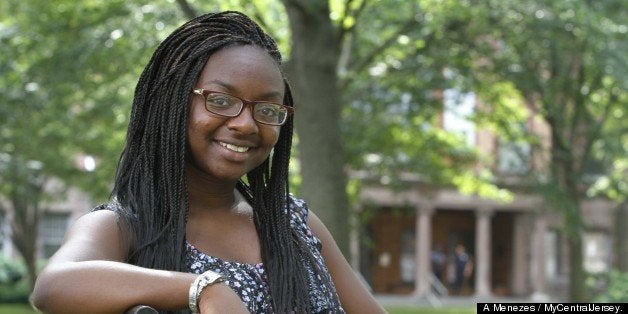 What began as an educational experiment five years ago is now making a big difference in the lives of low-income New Jersey students.
In 2007, Rutgers University dreamed up its Future Scholars program, a rigorous 5-year college preparatory course that would target kids from families living at or near the poverty line. It would accept up to 200 of those students as 7th-graders and provide tutoring, mentoring and specialized classes in the hope of putting them on the right track to a university education.
If students kept up with the program and were admitted to Rutgers, they would receive a donation-funded scholarship and be able to attend free of charge.
"It even beats the state graduation rate," Courtney McAnuff, Rutgers' VP of enrollment management, told the paper. "It's just been phenomenal."
Barbara Andrews (pictured above) is one of the program's first graduates. She will be attending Rutgers this fall with a five-year full ride. Like many other Future Scholars, Andrews is a first-generation college student who thought affording university tuition would be impossible. She told the New Jersey Press, "This program honestly helped me believe that I could do anything that I want to do."
The program currently accepts 50 students from four cities -- New Brunswick, Piscataway, Newark and Camden -- but the university is hoping to bring the idea to communities around the nation. Rutgers will host a national conference in November to help develop similar programs elsewhere, the Star-Ledger reports.
"Ultimately, it's about transforming lives, whether it's the scholars themselves or people who are inspired by our students," program director Aramis Gutierrez told the New Jersey Press. "These young people should take much more credit because they are resilient and they just needed some guidance to point them to their goals. They've done all the work, and we're lucky to be a part of it."
Popular in the Community