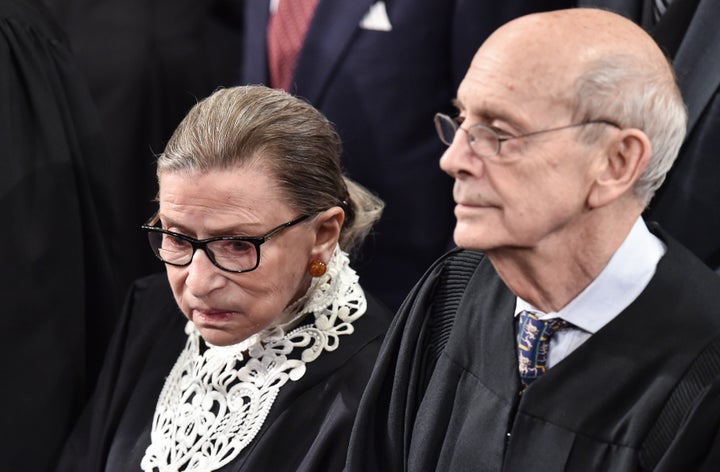 While Justice Ruth Bader Ginsburg joined Justice Stephen Breyer in his majority opinion, she penned her own scathing concurring opinion that, in one brief paragraph, warns lawmakers across the country that medically unnecessary abortion restrictions will never be tolerated by the high court.
The 2013 Texas law that the court struck down would have required all abortions to take place in ambulatory surgical centers, or mini-hospitals, instead of regular clinics. Ginsburg kept her argument simple: Abortions are statistically safer than many simpler medical procedures, including tonsillectomies, colonoscopies, in-office dental surgery and childbirth -- but Texas does not subject those procedures to the same onerous requirements.
"Given those realities, it is beyond rational belief that H.B. 2 could genuinely protect the health of women, and certain that the law 'would simply make it more difficult for them to obtain abortions,' Ginsburg wrote. "When a State severely limits access to safe and legal procedures, women in desperate circumstances may resort to unlicensed rogue practitioners ... at great risk to their health and safety."
The Texas abortion law has already shut down about half of the 42 clinics that operated across the state in 2013 before it went into effect, leaving large swaths of rural Texas without any abortion provider. Women without access to safe and legal abortion in the state have already started to buy abortion pills from Mexico and take matters into their own hands.
But Monday's Supreme Court decision in Whole Woman's Health v. Hellerstedt does not only affect Texas. Many GOP-led state legislatures, especially across the South, have passed laws similar to the Texas law that are designed to regulate abortion clinics out of business. These so-called TRAP (Targeted Regulation of Abortion Providers) laws fly in the face of Roe v. Wade and Planned Parenthood v. Casey, the two major abortion decisions of the last century that prevent states from imposing an "undue burden" on women's ability to get a safe and legal abortion.
Ginsburg made it clear in her concurring opinion on Monday that the high court will never allow these types of laws to stand.
"So long as this Court adheres to Roe v. Wade and Planned Parenthood of Southeastern Pa. v. Casey," she wrote, "Targeted Regulation of Abortion Providers laws like H.B. 2 that 'do little or nothing for health, but rather strew impediments to abortion,' cannot survive judicial inspection."
Support HuffPost
The Stakes Have Never Been Higher
Popular in the Community