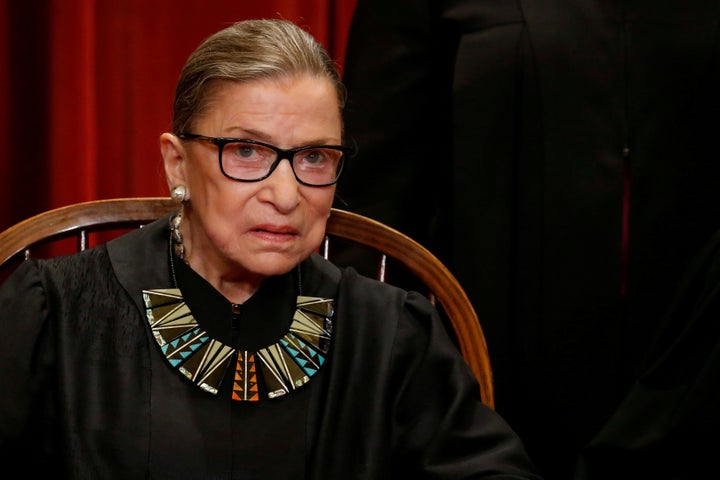 Justice Ruth Bader Ginsburg ruled Friday that the Supreme Court would not step in at this point to stop two top officials from having to sit for depositions about the Trump administration's decision to add a citizenship question to the 2020 census.
The depositions from Commerce Secretary Wilbur Ross and acting Assistant Attorney General John Gore are seen as crucial to a lawsuit challenging that question. The plaintiffs argue that a Department of Justice request to add the question was a pretext and that Ross had wanted to do so even before DOJ made the request. Internal documents show Ross and Gore played a key role in the process, and their testimony under oath in a deposition might provide additional insight. DOJ lawyers have fought hard to block those depositions.
U.S. District Judge Jesse Furman of the Southern District of New York has already ordered Ross and Gore to sit for the depositions. The U.S. Court of Appeals for the 2nd Circuit agreed that Gore had to sit for one. The appeals court will consider a motion to block Ross' deposition on Tuesday.
Ginsburg, who handles requests from cases in the 2nd Circuit, left open the possibility that the Supreme Court would reconsider the issue in the near future. She said she was denying the Trump administration's request to block the depositions "provided that the Court of Appeals will afford sufficient time for either party to seek relief in this court before the depositions in question are taken."
The depositions for both Gore and Ross are scheduled for late next week.
Although federal law requires individual census data to be kept confidential, critics of the citizenship question worry it will discourage people fearful about sharing their citizenship status with the Trump administration from responding to the decennial survey at all. A memo from the Census Bureau's chief scientist, disclosed as part of the lawsuit, warned that adding the citizenship question was likely to produce more inaccurate data.
An inaccurate count could have severe consequence. The census is used to determine how billions of dollars in federal funds are allocated each year and how electoral districts are drawn.
Popular in the Community