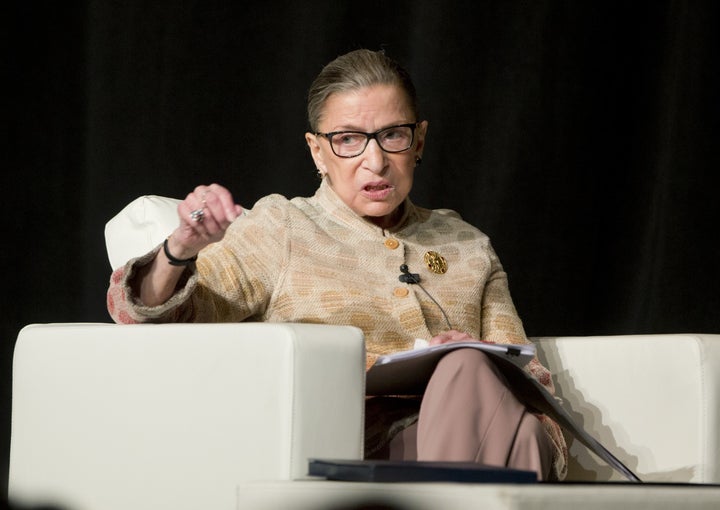 Justice Ruth Bader Ginsburg doesn't like a Supreme Court operating with only eight justices since the February death of her friend, Justice Antonin Scalia.
"Eight, as you know, is not a good number for a multi-member court," Ginsburg said Thursday at a New York conference for judges and lawyers. "When we meet ... next year, I anticipate reporting on the decisions of a full bench."
Ginsburg's remarks at the annual Second Circuit Judicial Conference, which she attends regularly, are the boldest by a justice so far on the dynamics of a Supreme Court that's one member short.
Her insights give the public a bird's eye view of high-profile cases the court has heard, decided and is still deliberating -- including those where no final decision could be reached due to an even split.
"That means no opinions and no precedential value," Ginsburg said, according to a transcript of her speech. "An equal division is essentially the same as a denial of review."
Ginsburg's desire for a full, nine-member court may be wishful thinking, in light of staunch Republican opposition to granting a Senate hearing or a vote for Merrick Garland, the appeals judge President Barack Obama nominated to take Scalia's seat at the high court. If the GOP blockade persists until the next president takes office, a new justice might not be seated until after June 2017, the end of the court's next term.
On the Obamacare case, the court was roundly criticized for issuing a meager three-page decision that failed to clarify whether a requirement of the health care law that faith-based nonprofits sign a form noting objections to contraception violates their rights under federal law. The practical effect of this quasi-ruling is more litigation and uncertainty for the dozens of parties involved -- and a possible new trip to the Supreme Court later.
Ginsburg's comments came a day after Chief Justice John Roberts, speaking at a similar conference in West Virginia, said he's doing his best to try to get his colleagues to find common ground on contentious issues.
"I try to achieve as much consensus as I can," Roberts said, according to The Associated Press, sounding a bit more optimistic about the status quo. "We kind of have to have a commitment as a group. I think we spend a fair amount of time — maybe a little more than others in the past — talking about things, talking them out. It sometimes brings you a bit closer together."
But recent action or inaction by the court shows otherwise. An analysis by FiveThirtyEight, published last week, noted that the court is on track to have its lightest caseload in seven decades, and that none of the cases it will hear beginning in October is particularly newsworthy. During its usual round of orders on Monday, the court again refused to hear any new cases.
For an educated guess on how the Supreme Court might rule on some of those issues, don't look to Justice Stephen Breyer. Earlier this week, he added his voice to the conversation by noting, ambivalently, that he and his benchmates "may" or "may not" deadlock in the pending cases.
Popular in the Community