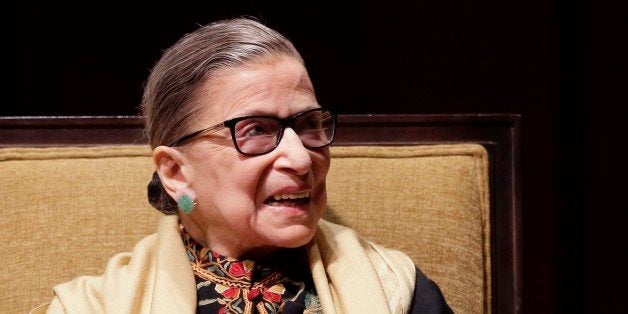 In a rare interview with MSNBC's Irin Carmon, Supreme Court Justice Ruth Bader Ginsburg discussed her tenure on the court and women's rights in America today.
"I'm concerned about doing the job full steam," Ginsburg said. "Once I sense that I am slipping, I will step down. This is a very intense job."
Asked about her replacement, the Supreme Court justice demurred.
"My successor will be the choice of whatever president is sitting at that time," she said.
Carmon and Ginsburg talked at length about the progress that's been made on women's rights since the 1970s, when Ginsburg co-founded the Women's Rights Project at the American Civil Liberties Union.
"Our goal in the '70s was to end the 'closed-door' era," Ginsburg said. "There were so many things that were off limits to women -- policing, firefighting, mining, piloting planes. All those barriers are gone... What's left and what's harder to deal with is what I call unconscious bias."
Ginsburg said that she does not foresee Roe v. Wade, the landmark 1973 Supreme Court decision that legalized abortion nationwide, being overturned; the court "is highly precedent-bound," she said. But new restrictions on abortion -- waiting times, building codes, and limits on insurance coverage for reproductive rights -- could curb access for poor women.
"We will never see a day when women of means will not be able to get a safe abortion in this country," Ginsburg said. "The situation with abortion right now -- all the restrictions -- they operate against the woman who doesn't have freedom to move, to go where she is able to get safely what she wants."
When the time comes, Ginsburg said she'd like to be remembered as "someone who used whatever talent she had to do her work to the very best of her ability... To help repair tears in her society, to make things a little better through the use of whatever ability she has."
Carmon reflected on the interview in an email to The Huffington Post.
"Justice Ginsburg is someone who has really lived the change she helped make in the world, so it was such a treat to talk to her about her own life as well as the law and social justice," Carmon said. "Plus, they don't let cameras into the Supreme Court very often, so that was pretty cool too."
Related
Popular in the Community