LOS ANGELES, Nov 9 (Reuters) - Supreme Court Justice Ruth Bader Ginsburg is "up and working" and making jokes after being hospitalized with rib fractures, her nephew said on Thursday at the premiere of a new movie about her early career fighting for women's equality.
Daniel Stiepleman, who wrote the script for the film "On the Basis of Sex" about his aunt's work as a young lawyer, with input from the justice herself, told Reuters the 85-year-old Ginsburg was "doing great."
"The last I heard she was up and working, of course, because what else would she be doing, and cracking jokes," he said. "I can't promise they were good jokes but they were jokes."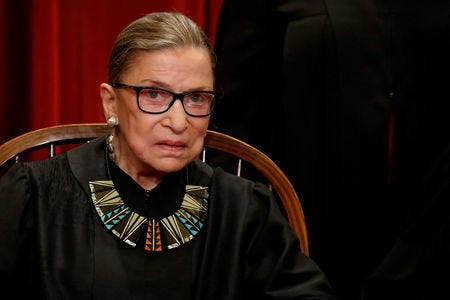 Ginsburg was hospitalized in Washington after suffering three fractured ribs from a fall. Hours later, Hollywood got its first look at the new film about her pioneering work.
"On the Basis of Sex" stars Felicity Jones as a young Ginsburg and Armie Hammer as her tax attorney husband Martin, in a story about a landmark discrimination case the pair argued in 1972. Director Mimi Leder described the movie as the "origin story" of the justice, who became a hero among U.S. liberals.
"She is a woman who, like countless generations of women before her and since, withstood the subtle slights and overt discrimination of the culture around her," Leder told the audience at the movie's world premiere. "She is a woman who changed that culture with her."
The film, which will debut in U.S. theaters in December on Christmas, depicts Ginsburg as one of just nine women at Harvard Law School in the 1950s, and later struggling to find a firm that will hire a Jewish woman as a lawyer.
"I wanted to show someone who, when they're younger, didn't have all the answers," Jones told Reuters on the red carpet. "She was making mistakes, finding out who she was, had a very young family, her husband wasn't very well.
"She was juggling a lot of difficult things at the same time," Jones added, "but always (had) this absolute commitment to the law."
The film chronicles a case involving Charles Moritz, a single man who was denied a $296 tax deduction because he was a male caregiver. Ginsburg and her husband successfully argued that the denial represented gender-based discrimination.
The real-life Ginsburg made a brief, surprise appearance in the film, drawing applause from the crowd.
Related
Popular in the Community