WASHINGTON ― Embracing her status as a cultural icon, Supreme Court Justice Ruth Bader Ginsburg on Wednesday regaled law students with witty anecdotes while looking back on her storied legal career and offering a brief taste of the court's upcoming term, which begins next month.
At an event for first-year law students at Georgetown University, Ginsburg reflected on her years working on women's rights cases, with several of the selected student questions centering on issues facing women in the law.
When asked why she built her legal career around issues of gender equality, she rephrased the question.
"You mean, how did I decide to become a flaming feminist litigator?" she said, to laughter.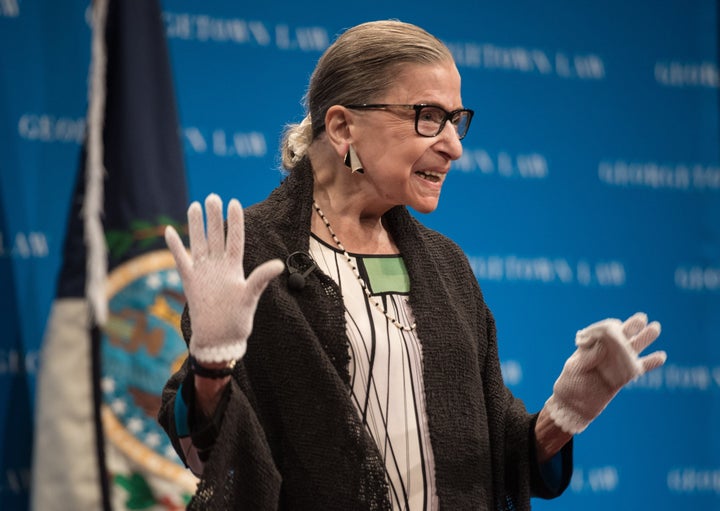 Saying that it was "exhilarating" to see women making up the majority of students in Georgetown's incoming law class, Ginsburg recounted that there were only nine women in her class at Harvard Law School, and that there were few, if any, anti-discrimination laws when she was entering the profession.
"Employers were up front about wanting no, quote, lady lawyers," she said. "The main difference is all the closed doors are now open. There is nothing that a woman can't do in the law."
While "overt barriers" no longer exist, she said, women now face challenges that are harder to detect.
"What remains is harder to get at. That's unconscious bias," Ginsburg said, recalling a legal case involving why women were given fewer opportunities to advance to middle-management jobs.
"It turned out that all of the interviewers were white men, and when they faced someone who was like them, there was a certain familiarity, there was a comfort level: 'I know what this person is like,'" she said.
"But if the person sitting across the table is of another race or is a woman, it's discomfort on the part of the interviewer," she continued. "'This person is not familiar to me. I don't know quite how to relate to her.' It wasn't a case of 'I don't want any women to be promoted.' It wasn't deliberate discrimination, but that's unconscious bias, and the people questioned whether that exists."
Ginsburg also expressed concern about work-life balance for women in the law.
"I'm always sad to hear people say that to climb to the top of the tree in the legal profession, a woman has to forgo having a family and children," she said, recommending that the key is "to have a partner who thinks your work is as important as his."
Ginsburg began the event by summarizing key cases from the court's last term and previewed the court's upcoming term, which begins in October.
The court is preparing to hear oral arguments on an highly anticipating voting rights case regarding Wisconsin's attempt to redraw electoral maps, and another on President Donald Trump's travel ban against seven majority-Muslim countries, and Ginsburg would only comment that "it would be momentous."
During her remarks Wednesday, Ginsburg also offered humorous anecdotes about her colleagues, noting the court's newest member, Justice Neil Gorsuch, now rivals Justice Sonia Sotomayor "as the person who asked the most questions during oral arguments."
Justice Stephen Breyer earned ribbing from his fellow justices because his cell phone went off twice during oral arguments, Ginsburg said, which led Chief Justice John Roberts to jokingly install a "replica of a metal detector" for Breyer to pass through with his phone.
Calling all HuffPost superfans!
Sign up for membership to become a founding member and help shape HuffPost's next chapter
BEFORE YOU GO
PHOTO GALLERY
The Supreme Court's 'Family' Photos