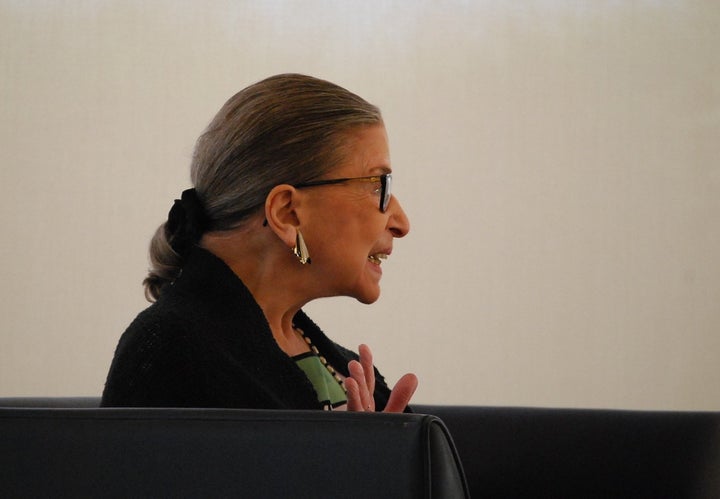 WASHINGTON -- When given the opportunity to ask Supreme Court Justice Ruth Bader Ginsburg anything in the world, why not let her pick the question?
Ginsburg held a public talk with Duke Law professor Neil Siegel on Wednesday evening, taking questions from Duke alumni and Summer Law Institute students. One recent graduate, Neil Kondamuri, asked the justice to pitch and respond to a query that she's never been asked but would want to answer.
Ginsburg said she's heard it all during her more than 20 years on the Supreme Court. So she ran with a story of female empowerment -- a familiar theme for the justice -- and explained how she came to decide she wanted to serve on the high court.
One question that I like to get asked is, Did I always want to be a Supreme Court justice? And to answer that, I have to tell what was the history of the last half-century. There were very few women on the federal bench until Jimmy Carter became our president, and he looked around at the federal judiciary and said to himself, "They all look like me, but that's not how the great United States looks. So I want our court system to reflect the talent and the knowledge of all the people of this great United States and not just some of them." So he determined to put members of minority groups and women on the bench in numbers. ...

After Carter, things never went back to old ways. The first time I ever thought of being a judge was when Jimmy Carter announced to the world that he wanted to change the complexion of the U.S. judiciary, which he did.
Women's advancement played a major role throughout the conversation, as Ginsburg threaded together cases from the court's most recent term and throughout its history. She pointed to landmark wins and losses -- Roe v. Wade (1973), Kirchberg v. Feenstra (1981), Ledbetter v. Goodyear (2007), Burwell v. Hobby Lobby (2014) -- to argue that defeats in the court sometimes led to important victories in Congress.
Such was the case for the Lilly Ledbetter Fair Pay Act. A Democratic-controlled Congress passed that law in 2009 in response to the court's 5-4 decision that under previous law, employees had just 180 days to sue over acts of intentional pay discrimination. As Ginsburg put it, "sometimes losers turn out to be winners."
"The change in women's position both under the law and in the law as doers has been exhilarating. And I think we are all better off for it," Ginsburg said.
Popular in the Community