"In the theater of the past that is constituted by memory, the stage setting maintains the characters in their dominant roles." -- Gaston Bachelard, The Poetics of Space
Memories take center stage in Ruth Weisberg's dreamlike images, recalling Gaston Bachelard's philosophic premise in The Poetics of Space that "something closed must retain our memories, while leaving them their original value as images." Weisberg opens the curtains to the theatrical space of her imagination -- casting herself, her daughter, her son and her daughter-in-law in the central roles. In this imaginary space, she and the people she loves play the roles of historic figures who lost their lives in historic tragedies and figures in old master paintings she has loved since childhood. The tenderness of her portrayal of the people closest to her, re-imagined in a distant past, brings history to life with new allegorical fictions about the psychological world of her relationships to those she most loves.
Weisberg juxtaposes a close perspective with a distant perspective to stage her memories within a historic continuum. Bachelard insists, "One must always maintain one's connection to the past and yet ceaselessly pull away from it." For Weisberg, art history, Jewish history and personal memories are corridors leading to the space of the imagination. Her connection to the past is both scholarly and deeply felt because Weisberg trained rigorously as an artist from the age of six. Few artists in America have studied the visual language of art with such dedication -- or received such critical acclaim or prestigious awards for their high level of formidable skills.
Weisberg is a third generation Jewish feminist with the strong moral fiber of an heroic suffragette leading the way for women artists and younger artists through her activism and exemplary life. The moment the spunky six-year old lass announced to her parents that she was going to be an artist (after just a few art classes at what was then called the Junior School of the Art Institute of Chicago), Weisberg's path was clear and she would ignore the customary gender obstacles -- with the encouragement of her architect father and activist mother who was "president of everything,"
At 17 years old, Weisberg moved to Italy to study art for three years at
L' Accademia di Belle Arti di Perugia, where she "lived among things that evoked history and filled me with awe." She studied European figurative artists (like Giacometti and Balthus) with whom she fell in love as a child visiting the Art Institute of Chicago collection. Weisberg also travelled to Israel and Paris while continuing to develop her classical drawing skills that have always set her work apart -- demonstrated in her beautiful monumental drawing Island (2007).
At a time when figurative art was unfashionable in America and the de-skilling of art became increasingly fashionable in postmodernist thinking, Weisberg with suffragette spunk dismissed the hype about what was cool, as "ridiculous." She says, "I was an insider/outsider in a way, traveling my own path." Weisberg's technical skills and refined sensibility might be European, but she still incorporates American Abstract Expressionist materiality, tactility, texture and use of color. As she says, "I embedded figurative in Abstract Expressionism." Weisberg explains, "I was part of the art world but not easily put in a category. There are always Europeans who were figurative but just not in the limelight and master narrative."
The current resurgence of interest in figurative art makes Weisberg's works on paper retrospective Reflections Through Time at Jack Rutberg Fine Arts (June 13 - October 3, 2015) historically important because Weisberg is the grand dame of Los Angeles figurative art and feminist art. Weisberg says that the return to figurative art "is very natural, because the figurative engagement with reality is very powerful -- and the narrower path got tedious and used up." The exhibition culminates with the publication of a beautiful gallery catalogue which includes insightful essays by John Seed and Annabel Osberg that will continue to be of great value to Weisberg scholars, figurative art scholars, feminist art scholars -- and those who love collectible art books.
Rutberg is known for museum quality exhibitions. In this impressive retrospective, Weisberg's paintings, lithographs, monotypes and drawings are installed with informative didactics that incorporate small reproductions of the great master paintings which are the sources of the embedded stories she elaborates upon with her own personal fictions. Weisberg merges the past and the present -- in a richly re-imagined space which has room for her beloved Corot, Velazquez, Titian, Cagnacci, Veronese, Watteau and Blake -- personalized with memories of her family and her own female passages through motherhood. In her iconic Waterbourne (1973), a pregnant woman floating in a pool is an early feminist portrayal of impending motherhood, birth and female empowerment.
The Blessing (2008) draws upon Guido Cagnacci's Martha Rebuking Mary For Her Vanity (1660) for her solo exhibition at the Norton Simon Museum. But in Weisberg's allegorical fiction, she plays a less punitive Martha, blessing rather than rebuking, her daughter-in-law. Return (2014) draws upon Mauryey Gottlieb's Jews Praying in the Synagogue on Yom Kippur (1878) in the Tel Aviv Museum of Art which astonished her because the primary figure has a striking resemblance to her son (the musician Daedelus) who is the protagonist in her re-imagined version with ancestral figures behind curtains. This painting shows her trademark use of unstretched canvas for more texture.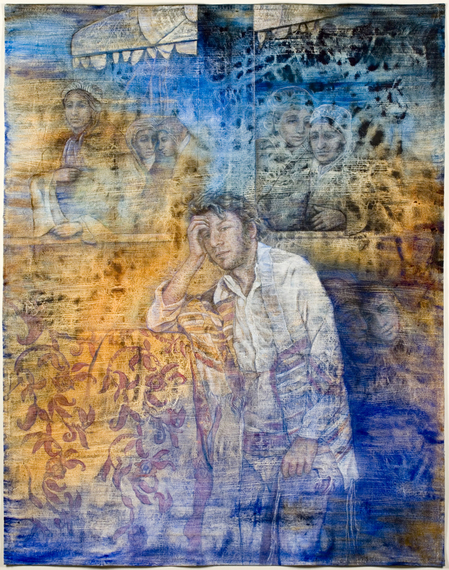 Return, 2014
Mixed media, painting on unstretched canvas
64 1/4" x 50 3/4"
Photo courtesy of Jack Rutberg Fine Arts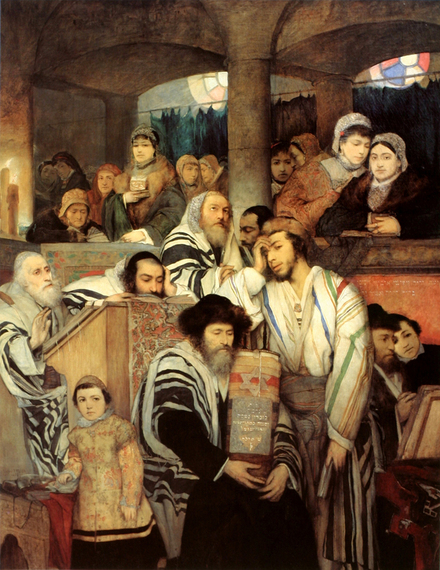 Mauryey Gottlieb (1856-1879)
Jews Praying in the Synagogue on Yom Kippur, 1878
Oil on canvas
Tel Aviv Museum of Art, Israel
The overall impression of Weisberg's work is dreamlike -- as though the viewer is invited inside a private imaginary space in which memories, daydreams, past and present flow together and float apart. Weisberg uses the imagery of moving veils, curtains and water to suggest a stream of consciousness making fluid connections between poetic imagery which evokes deep feeling. She plays with different concepts of space -- shallow space and deep space -- to invite the viewer inside her imaginary space, but sometimes puts up a barrier with a veil or curtain to keep the viewer at a distance. This is a very feminine way of enticing the viewer into her interior space in a courtship dance with polite boundaries, so nothing is taken for granted.
Her use of veils began in her years of lithography moving into paintings to heighten the theatrical aspect of her work. During her involvement with the women's art movement, she studied performance art with Rachel Rosenthal, which gave her a greater understanding of the effect of lighting in creating theatricality through shifting colors. Weisberg's palette of ethereal blues, purples, pinks and greens resemble stained glass, water and fabrics which are fluid, hazy, transparent and float from one space into another -- never remaining the same, because she is poeticizing a flow of thought where the past and present merge in memories.
Weisberg uses a complex visual language to create nuances and subtleties in meaning. She says, "every painting is unique and contains accidents. The problem solving is working with the accidents which are in partnership with chance. Each painting gets solved one at a time." As Jerome Witkin, the great East Coast Jewish figurative painter (who also draws from art history and Jewish history) says "there is so much risk and so much poetry" in Weisberg's work.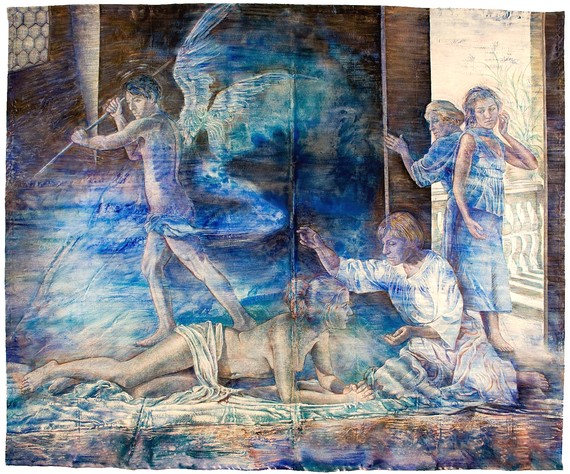 The Blessing, 2008
Oil and mixed media, painting on canvas
80" x 96"
Photo courtesy of Jack Rutberg Fine Arts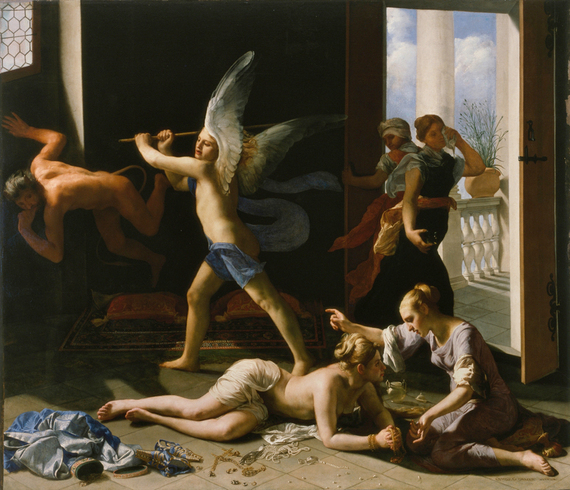 Guido Cagnacci (1601-1663)
Martha Rebuking Mary for Her Vanity, 1660
Oil on canvas
Norton Simon Museum of Art, Pasadena, CA
Weisberg is a committed artist, teacher and organizer, always loved by her contemporaries and her students, who learn from her example how to be serious artists -- and use her permission to return to heartfelt figurative art. Weisberg is the first living artist to have a solo exhibition at the Norton Simon Museum as well as the first living artist to have a solo exhibition at the Huntington Library, where she created works inspired by great masters in both museums' collections. She was awarded the 2009 Women's Caucus Lifetime Achievement Award for her feminist activism and a Doctor of Humane Letters, honoris causa, from Hebrew Union College for her Jewish activism. Her works are included in the permanent collections of over 60 museums, including the Metropolitan Museum, Whitney Museum, Los Angeles County Museum, Getty Research Institute, Norton Simon Museum, Art Institute of Chicago, The National Gallery of Art in Washington, Detroit Institute of Arts, Biblioteque Nationale in Paris and Rome Institute Nationale per la Grafica.
Weisberg has had over 80 solo and almost 200 group exhibitions while mentoring students for decades. She was the longest tenured Dean of USC's Roski School of Art and Design where she is still a professor, dividing her time between teaching and directing the USC Initiative for Israeli Arts and Humanities. Weisberg always stands her ground, speaks her mind and refuses to bow to the dictates of passing trends -- making her a formidable grand dame of figurative art in Los Angeles.
Ruth Weisberg Reflections Through Time was on view at Jack Rutberg Fine Arts (June 13 - October 3, 2015) with selected works on view continuously. Catalogue is available.
To learn more about Ruth Weisberg exhibitions at Jack Rutberg Fine Arts , see Eric Minh Swenson's haunting video : Reflections Through Time
Popular in the Community