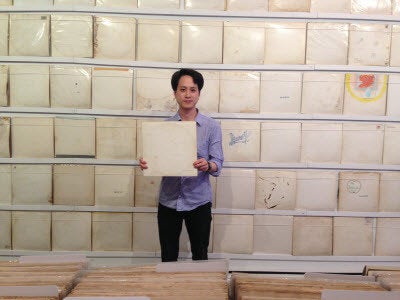 If you happened to be walking down a quiet Soho street in the last several weeks, you may have noticed what seemed to be a pop-up record store with an electric red sign in the window proclaiming "We Buy White Albums." When you go up the steps and inside, you'll realize you've entered a very special world, that of artist Rutherford Chang. Chang, based in Shanghai and New York, is known for his mathematically charged artwork of cultural iconography (prior works include "The Class of 2008," utilizing all of the Wall Street Journal pen and ink portraits for that year - presented alphabetically; "NBC Nightly News," in which all the footage from June 14, 2004 is reordered A-Z). His work has been exhibited internationally at venues like White Space in Beijing, Brown Gallery in London, and Haus der Kulturen der Welt in Berlin.

We Buy White Albums is an installation Chang created for the public space Recess, which is part of their signature program Session. Session invites artists to use the space for projects that embrace experimentation, focusing on process. Chang's vision is, once again, mathematically based. He has collected roughly 700 copies of the Beatles' iconic ninth studio album, The White Album, originally released in November 1968. These are organized by serial number and are methodically being played on a turntable each day in the shop, while at the same time being recorded onto a track. At the end of the installation, Chang plans to play hundreds of copies of the album simultaneously using the kind of technology that the Beatles would have only dreamed of when the record first came out 45 years ago.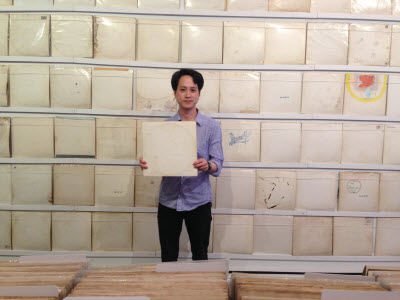 "I collect Beatles' White Albums," Chang tells me while Birthday plays in the background. "Just the White Album, and just first pressings. I'm interested in the way that this album has aged so uniquely, it tells a story of everything that's happened in the last 45 years... Everyone has a story that goes with this album, and that's also apparent in the condition of the cover. I guess it was the cover that first interested me, just the serial numbers -- it became the perfect collectors' item. They pressed just over three million copies and the serial number became a unique cultural artifact." Chang also points out that Richard Hamilton's original design for the cover has resulted in many owners having decorated the blank canvas themselves.
Chang was 15 at the time he purchased his own first copy of the White Album at a California garage sale for a dollar. He pays no more than $20 for copies to add to his collection, and prefers them to be worn, scribbled on, lived on. On the wall of the exhibit space is a seemingly endless rack of copies of the original pressing, faced by bins full of more copies, all arranged by serial number. Recess' visitors are encouraged to browse through them and pick one to listen to. On March 7, Chang will host a closing night reception at the space where he will play a composite of hundreds of copies layered together. A sample of this can be heard on his SoundCloud page, where one hundred copies of Side 1 are played simultaneously. "Basically over the next 25 minutes or so because of the imperfections in the vinyl they gradually go out of phase, so it gets more and more psychedelic," Chang says. Check it out for yourself, and be sure and stop by Thursday night if you're in the area.
We Buy White Albums
January 8 - March 9, 2013
Recess, 41 Grand Street, New York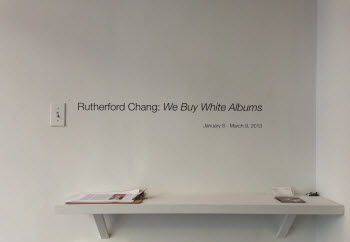 Photographs by Holly Cara Price
Support HuffPost
The Stakes Have Never Been Higher
Related
Popular in the Community