Wanted: Enterprising women with the drive to rebuild Rwanda with wit, artisan skill and changemaking spirit.
        Meet Emelienne Nyiramana and Joselyne Nibagwire, two 'artisan changemakers' who are leading the way towards creating sustainable economic and social development for women in Rwanda. Both Emelienne and Joselyne have established successful sewing cooperatives in Rwanda, employing seamstresses and production staff to spearhead artisan goods for major international brands such as J.Crew, Nicole Miller and Madewell. Their stories of hope and empowerment have been critical for the reconstruction of Rwanda.

These women underscore the powerful role women play in building economic development and social cohesion in post-genocide Rwanda. In 1994, civil war and genocide impinged on Rwanda, divisions between the Hutus and Tutsis escalated and resulted in the deaths of over 800,000 men, women and children. "Following the 1994 genocide, Rwandan women looked to support groups to re-find a sense of community," says Joselyne Nibagwire, Head of Quality Control at Abasangiye.
Emelienne and Joselyne's sewing cooperatives have grown thanks to the help of Indego Africa, a design-driven social enterprise that partners with the women artisans to build up their cooperatives into sustainable businesses.
Emelienne's cooperative Cocoki is an exemplary model of design and social enterprise. As the founder, Emelienne has expanded the cooperative significantly, hiring extra seamstresses and moving to a larger production facility. Emelienne's work has not gone unnoticed, as she was selected to participate in the Goldman Sachs 10,000 Women initiative and the Institute for Economic Empowerment of Women's Peace Through Business program.
"In Rwanda following the genocide in 1994, 70% of the population were women. The country really had to look to women to drive economic growth. And so what we see are women who have a skill set that is export ready," says Indego Africa CEO Conor French.
Indego Africa opens up new avenues for the women to tap into existing markets and collaborate with U.S designers for market ready products.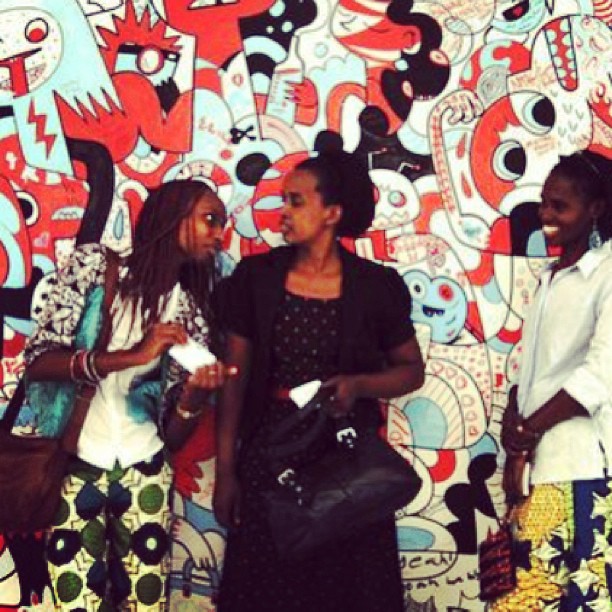 Indego Africa have just wrapped up their two week U.S. tour with Emelienne and Joselyne, during which the team met with Google and American Express to sharpen their business skills. They also met with designers Danielle and Jodie Synder of Dannijo to learn more about the production pipelines.
For Joselyne and Grace Tsuni Uwase, Indego Africa's Production Manager and translator on the tour, this visit to the U.S. has been their first, an exciting and overwhelming experience for both women. "We got a lot of orders, and we have expanded our business. And I have looked for more training to improve my skills," says Emelienne, who first visited the U.S. with Indego Africa in 2011, the outcome of the tour proved to be a positive impact for her business.
Combining artisan craftsmanship and a changemaking ethos, the work of Emelienne, Joselyne and Indego Africa advance the possibility of design for lasting social change and economic growth for women in Rwanda.
REAL LIFE. REAL NEWS. REAL VOICES.
Help us tell more of the stories that matter from voices that too often remain unheard.