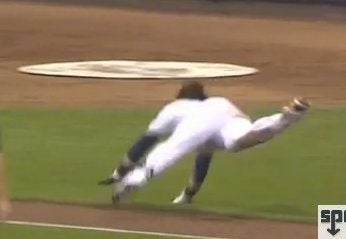 If an inside-the-park-home run is considered one of the rarest and most exciting plays in baseball, we guess that tripping after rounding third on your way to an inside-the-park-home run has to be much rarer.
Brewers All-Star Ryan Braun pulled off just this feat Wednesday night as Milwaukee played against St. Louis in a match-up of the top teams in the NL Central. In the bottom of the third inning Braun got a hold of a Jake Westbrook offering and drilled it to left center. The ball bounced around the outfield and it appeared that Braun had a free path to a "quadruple." Unfortunately for Brewers fans however, just as the throw made its way to the cut-off man, Braun took a spill on the third base path and was subsequently tagged out.
Braun received a standing ovation from the Milwaukee fans in attendance, including Reggie Miller, who appeared to be in disbelief over the play. We're not sure if Mr. Clutch ever pulled such a blunder during his career.
Both plays were certainly unique, and Braun's spill will forever give Brewers fans the chance to say, "I remember the time when..." whenever they see another inside-the-park-home run from this day forward.
Related
Popular in the Community