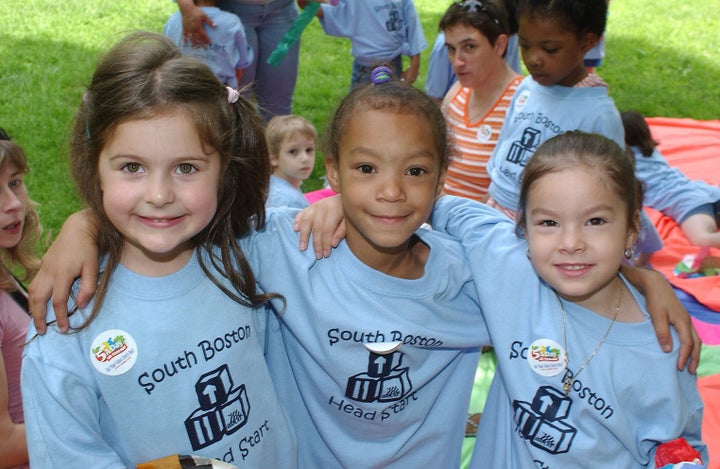 Even as a growing body of research attests to the importance of early childhood education as an antidote to poverty, the House is preparing to pass a Republican budget that would slash funding for Head Start, a federally funded program that provides a wide range of services to a million young children living in poverty and their families."
The plan, proposed by Rep. Paul Ryan (R-Wis.), who chairs the House Budget Committee, would eliminate slots for about 200,000 children in 2014, according to an analysis by the National Education Association. Over the next decade, the NEA estimates, more than two million children would lose opportunities to attend Head Start centers as a result of the cuts.
As it stands, only 30 percent of eligible children participate in the program, but children's advocates tend to argue that the program should be expanded, not diminished.
The proposal "translates directly into lost opportunities and outcomes for our students," Roberto Rodriguez, President Barack Obama's education policy advisor, said on a Thursday call with reporters. "It really has the potential of turning us backwards."
Some evidence supports such contentions, critics say. Over the last decade, as the income gap between the richest and poorest Americans has widened, researchers have demonstrated that access to pre-kindergarten education and child care can help children get into college and eventually climb out of poverty.
"It's good not just for kids," said Yasmina Vinci, who heads the National Head Start Association. "It's good for the whole community."
But despite the enthusiasm for Head Start, recent audits have shown the system is far from flawless. A report by the U.S. Government Accountability Office found that half of all workers in the field of children's services and a fifth of preschool teachers lacked high-school diplomas, for example. The survey counted workers for Head Start programs.
Congress passed a law in 2007 that authorized the Department of Health and Human Services to come up with a set of regulations that would allow it to move funds from Head Start centers deemed "low-performing" to those with higher grades. In December, President Barack Obama announced that the department had finished drafting the regulations. These rules have attracted controversy in their own right, with many Head Start providers saying they fall short of allowing the department to accurately assess a center's quality.
While Republicans in the House pushed for the cuts, Sen. Tom Harkin (D-Iowa), who chairs the Senate's education committee, introduced a bill that seeks, among other things, to expand and improve child care for low-income families. Harkin sees early childhood education as a crucial factor in rebuilding the middle class.
The bill would provide states with child-care subsidies for poor families on the condition that the states use 10 percent of the funds to bolster the child-care workforce and another 10 percent to improve the overall quality of the services. Harkin proposes paying for it by tinkering with the tax code, in part by establishing a tax on Wall Street transactions.
It's unlikely that either Harkin's or Ryan's proposals will enter U.S. law books; when Harkin was asked on a Thursday call with reporters whether Republicans on his committee had voted for his measure, he responded, "Honestly, no."
"However, I want to get this in," he added. "I want to make sure that it's part of our national dialogue and national conversation as they go through this campaign year."
Harkin also called Ryan's proposal "a pessimistic budget."
The president of the nation's largest teachers union, the National Education Association, took a similar view. "The Ryan dream killer of a budget stands in stark contrast with President Obama's vision for America," said Dennis Van Roekel.
Harkin's bill quickly drew support from Randi Weingarten, president of the American Federation of Teachers. "This legislation rejects the harmful, cuts-only approach of the Ryan Republican budget by "strengthening and supporting public education," Weingarten said in a statement.
Vinci, the head of the National Head Start Association, said she was concerned about the Ryan proposal. "We do hope that we can work with our bipartisan supporters in the House and the Senate to ensure adequate and responsible funding," she said.
Popular in the Community