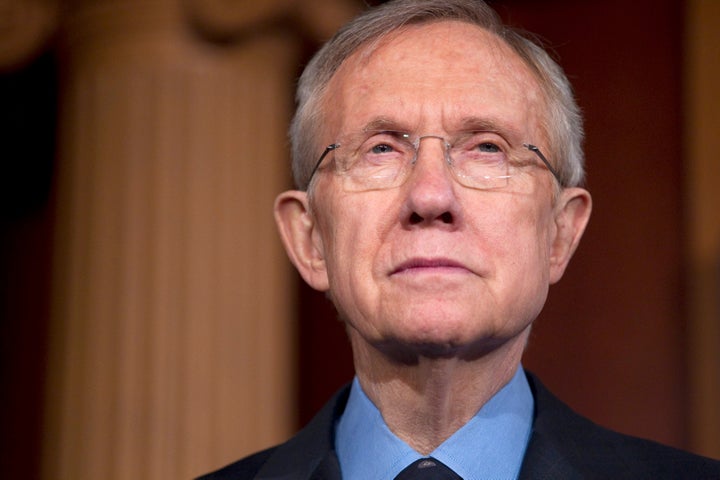 WASHINGTON -- Senate Majority Leader Harry Reid's office confirmed reports on Tuesday that the Nevada Democrat is thinking of holding a vote on Rep. Paul Ryan's (R-Wis.) budget. That would force moderate Republican senators to take an uncomfortable political stand.
"He's considering it," Reid's top spokesman Jon Summers told The Huffington Post.
The idea, first reported in The Hill newspaper, would be to build off the skeptical reaction that the Ryan budget has engendered at local town hall events this past week. After voting in near unanimity to pass the measure -- which would make drastic spending cuts, lower tax rates and fundamentally alter Medicare and Medicaid -- House Republicans have faced hostile receptions back home.
The Senate, which features several moderate GOP lawmakers, has not been forced to publicly weigh-in on Ryan's proposal. A vote could force the likes of Scott Brown (R-Mass.) and Olympia Snowe (R-Maine), both of whom are up for re-election in 2012, to make a difficult decision.
"It's to be determined," another Senate Democratic leadership aide said, of forcing such a vote. "But I would bet yes. There's no reason not to."
But there could be cause for hesitation. While House Minority Leader Nancy Pelosi (D-Calif.) was able to keep her members united in opposition to Ryan's budget, Reid and his deputies still must whip their caucus.
That said, it's hard to imagine even the biggest Democratic budget hawks voting for the measure. Sen. Joe Manchin (D-W.V.) would be, perhaps, the most likely suspect but he has already come out publicly against both the Ryan budget and the president's counter-proposal.
"While I am encouraged to see the President acknowledge the dire condition of our fiscal problems, no partisan proposal –- from either Democrats or Republicans –- will solve our nation's problems or put our fiscal house in order," Manchin said in a statement.
UPDATE: Don Stewart, a spokesman for Senate Minority Leader Mitch McConnell (R-Ky.) responds in an email:
I guess they really don't have an alternative, since they haven't written a budget of their own. As Sen. McConnell said: "Congressman Ryan is presenting a plan, in other words, to address our most pressing problems head-on at a moment when the President and other Democrat leaders simply refuse to do so themselves."
Popular in the Community