A San Francisco man wanted by the FBI for allegedly possessing explosives posted an ominous online note while authorities continued their manhunt.
A message entitled "Goodbye" reportedly written by Ryan Chamberlain appeared on Monday two days after agents in hazardous materials suits allegedly found explosive materials in his apartment in the Russian Hill neighborhood.
The 42-year-old political and media consultant referenced a pained relationship with his mother, romantic heartbreak, a lost job and a lifetime of "depression" in the online note posted via Hootsuite on a timed delay to Facebook. The note was quoted by the San Francisco Chronicle.
"So much was broken from this past year-and-a-half, and from moments way back before that," Chamberlain wrote, according to the Chronicle. "I guess it was just insurmountable, and the time's up."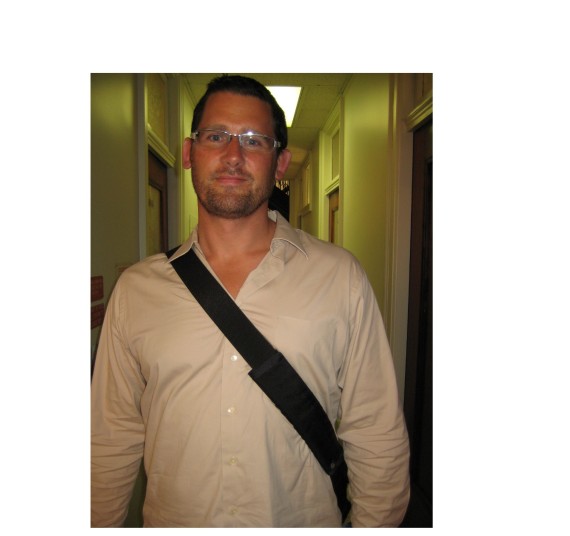 The 6-foot-3, 225-pound Chamberlain was last seen on Saturday wearing a dark blue sweatshirt and jeans while driving a 2008 Nissan Altima with either California or Texas license plate 7FQY085 or BX9M042, according to an alert from the FBI's San Francisco office.
After the post went up, Chamberlain allegedly denied warnings from the FBI that he's armed and dangerous.
A panicked update to my letter that should have posted by now. Nothing they're reporting is true. No "stashes." Not "armed and...

— Ryan Chamberlain (@poliholic) June 2, 2014
In the farewell letter attributed to Chamberlain, he contends law enforcement took an interest in him because of "dark" behavior on the Internet.
"I got dark. I got real dark. I explored myriad ways I could put an end to what I was going through. I binged-watched dark TV, sometimes didn't get off the couch for days, and scoured the Internet absorbing fuel for morbid fantasies. Some of that activity seemed to attract the attention of some visitors today ... who have made it rather evident that this is the end of the line for me," the letter says.
Chamberlain has worked on numerous political campaigns for Bay Area Republicans and Democrats, including California Lt. Gov. Gavin Newsom's 2003 winning campaign as San Francisco mayor.
(A disappointment with the Newsom campaign is alluded to in the letter.)
An FBI spokesman said at a press conference that agents didn't find ricin or dangerous biological agents in Chamberlain's apartment. But "he did possess explosives at his residence," said spokesman Peter Lee.
Popular in the Community