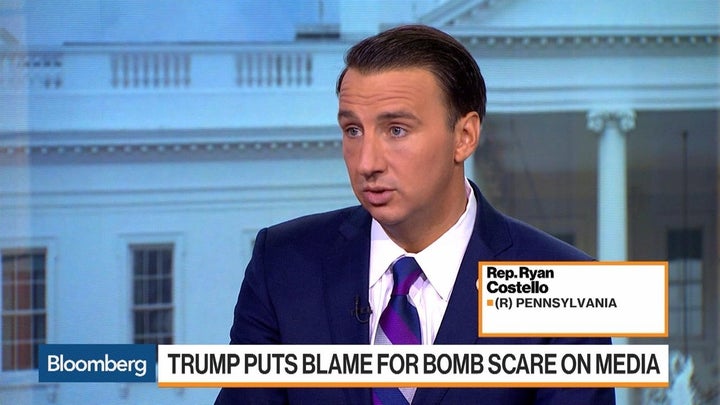 "Different people can be disgusted by different things," Costello, who has represented Pennsylvania's 6th Congressional District since 2015, said in a tweet. "This is one such thing for me."
He reflected on how Republicans representing "tough seats" have had to deal with "harassment & filth spewed" at them "every day" for two years because of the president. Trump's disparagement of some of the more than two dozen Republicans defeated in House races "angers me to my core," he said.
Trump at his press conference singled out Reps. Mia Love of Utah and Barbara Comstock of Virginia as examples of Republicans who distanced themselves from him in their campaigns and fared poorly in Tuesday's elections.
"They did very poorly and I'm not sure I should be happy or said," he said. "But I feel just fine about it."
"Mia Love gave me no love, and she lost. Too bad. Sorry about that Mia," he continued. "Barbara Comstock was another one … I think she could have won that race."
Love's home state, though traditionally Republican, is also heavily Mormon and Trump's past personal behavior ― such as his comments about women on the infamous 2005 "Access Hollywood" tape ― has made him much less popular there than past GOP presidents.
Love's race hasn't officially been called, but she appears likely to lose to Democrat Ben McAdams.
Comstock's district encompasses Northern Virginia communities that have been trending Democratic and where antipathy toward Trump has run high. From the outset of this election cycle, she was seen as one of the most vulnerable House Republicans.
She lost by more than 12 percentage point to Democrat Jennifer Wexton.
Costello has been among the handful of House Republicans willing to openly criticize Trump since he won the presidency.
"I was elected to vote and to speak my mind," Costello told CNN in July. "It's not because I like or dislike the president, it's because I think as someone who is elected to the United States Congress, that is what I feel that I should do."
Costello's district became much more Democratic this year under a court-supervised redrawing of the boundaries for Pennsylvania's House seats, spurring his retirement.
REAL LIFE. REAL NEWS. REAL VOICES.
Help us tell more of the stories that matter from voices that too often remain unheard.
BEFORE YOU GO