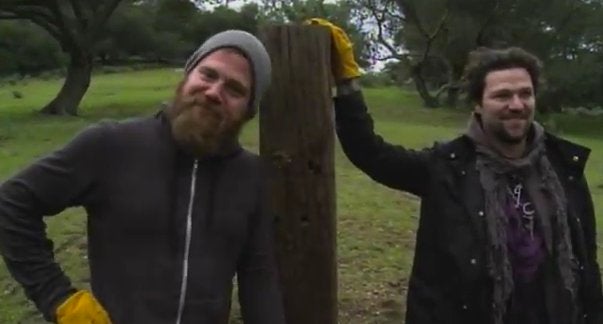 In both those cases, though, the words were ones of grief, of remembering a lifelong partner and regretting so terribly his loss. As it turns out, though, Dunn's memorial service was also a celebration of his life and, appropriately, his life's work: his "Jackass" stunts.
In this video, Dunn's high risk, high hilarity highlights are weaved together into a montage that puts into focus just how daring and, dare we say innovative, he was as a performer. Dunn was always willing to do the craziest stunts, from shooting out of a high speed launcher into a lake to kick boxing a professional (and getting his ass kicked), and in just over five minutes, his best will blow you away.
This video tribute to Ryan Dunn was featured at the memorial gathering that took place at Paramount Pictures in Los Angeles on the night of Wednesday, June 29. The second part of this montage cut together by Rick Kosick includes a specially done song for Ryan by Roger Alan Wade, "The Light Outlives the Star". "Ryan was really crazy about my cousin Roger," said Johnny Knoxville, "He loved his music and really looked up to him. Rog' was equally as crazy about Ryan and, like everyone else, was shook by his passing."