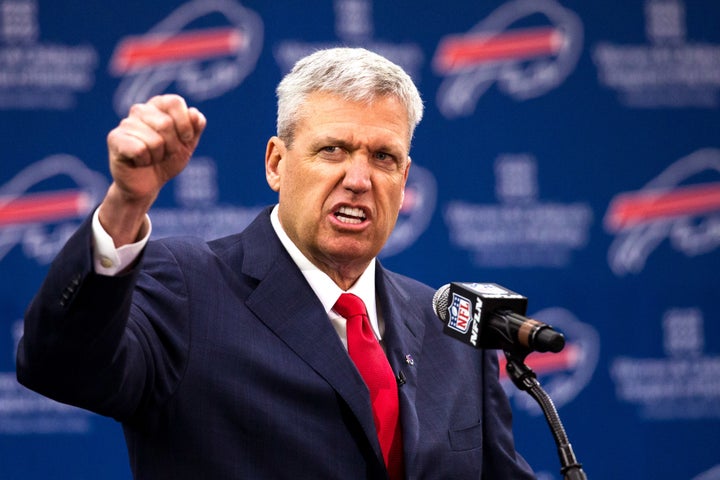 Rex Ryan needs a win against the Jets tonight. Badly.
It's etched on his face—the grim and surly look of a man who has come his professional crossroads. Once lauded as one of the finest defensive minds in the NFL, Ryan is perhaps one more losing season away from seeing his head coaching career come to its bitter end.
In year number two, Ryan's hubris and bravado are already beginning to ring dissonant. It's a tune that Jets fans still haven't forgotten, and one that's wearing thin among the Bills faithful. Nonetheless, expectations still remain lofty this season for a team that boasts legitimate talent at the skill positions in wideout Sammy Watkins, running back LeSean McCoy and newly-extended quarterback Tyrod Taylor.
There's no sugarcoating it; the pressure is on for Ryan to sink or swim this season.
The Bills and Jets clash Thursday night in a Week 2 divisional showdown, but this is not just another game on the schedule. Last year, rookie head coach Todd Bowles guided the Jets to a surprising 10-6 record, nearly securing a wild-card playoff berth. Conversely, Ryan played third fiddle in the division, falling behind his old team in the standings at 8-8 and hasn't so much as sniffed the playoffs since guiding the Jets to back-to-back AFC Championship appearances in 2009 and 2010.
The ire goes deeper than mere records, though. Last season was prognosticated as an AFC East resurgence for the Bills. It was not only to have been the coronation of a new power in the division, but also a redemption narrative for the oft maligned son of an NFL coaching legend—the triumphant return of Rex Ryan to the ranks of the coaching elite.
As they are want to do, the NFL gods had other plans.
Bowles and the Jets must not have gotten the invitation (nor did the Patriots, for that matter) to Ryan's comeback festivities, as it would be they, and not Buffalo, who would go on to regular seasons success, carving out a name for themselves as a 2016 team to watch in the process. Meanwhile, fans in Orchard Park suffered yet another disappointing season in what has become a woefully long list of them throughout recent memory.
Meet the new Bills. Same as the old Bills.
It may be early in the season, but there is more on the line tonight for Ryan than mere divisional implications. Those matter, of course. Whichever team comes out on the losing end of tonight's affair will likely find itself two games behind the Patriots in the AFC East once the Week 2 dust settles. It's a hole in which neither team can afford to find itself, but one that Ryan must desperately avoid if he hopes to salvage his short-but-tumultuous tenure in Buffalo.
Tonight's showdown is a test of mettle for the Bills. It's their first big divisional game of the year—at home no less—and it's in front of a prime-time, national television audience. For Ryan, however, this game has much deeper significance. It's an opportunity for him to reassert himself as an alpha dog in the coaching ranks; it's a chance to extract some measure of satisfaction against his former team; it's a moment in which he can prove to his players, and perhaps to himself, that he still has what it takes to win in the NFL. One need look no further than Ryan's recent profanity-ridden tirade to see his desperation.
It's rare to have one in Week 2, but make no mistake; this is a must-win game for Rex Ryan.
Calling all HuffPost superfans!
Sign up for membership to become a founding member and help shape HuffPost's next chapter