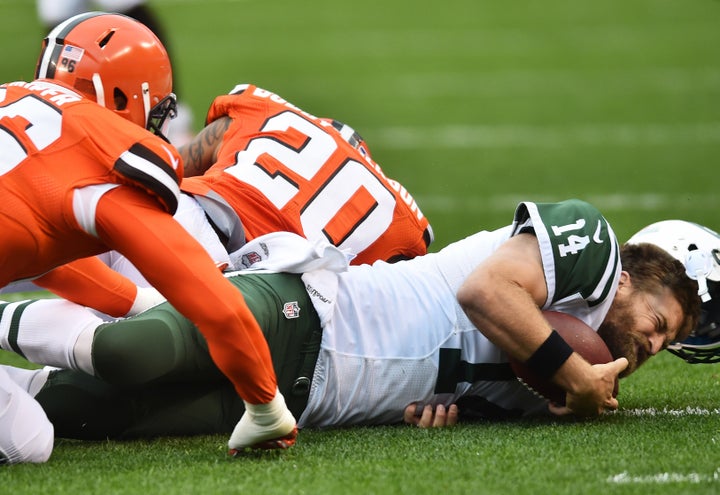 It was a good run for Ryan Fitzpatrick while it lasted.
In 2015, the Harvard-educated quarterback and seventh-round draft choice wasn't merely effective for the New York Jets ― he was really good. Fitzpatrick's career-topping year included 31 touchdown passes (tied with Aaron Rodgers for 10th in the league) and nearly 4,000 yards passing while leading the Jets to a near-playoff berth under first-year head coach Todd Bowles.
However, for Fitzpatrick and Bowles, 2016 has been a completely different story. After holding out for much of training camp before inking a new contract, the 33-year-old Fitzpatrick has been nothing short of awful, and with no sign of improvement.
First came his six interceptions in a Week 3 loss to Kansas City. Then came three more the next week in a loss to Seattle and, later, a 174-yard effort during an embarrassing 28-3 Monday Night Football drubbing by Arizona.
Fitzpatrick, after being benched only to fill in for the injured Geno Smith and lead the Jets to a comeback win over Baltimore in Week 7, expressed his frustration with the organization: "When the owner stops believing in you and the GM stops believing in you and the coaches stop believing in you, sometimes all you have is yourself. That's something I've had to deal with before, something I'm dealing with now."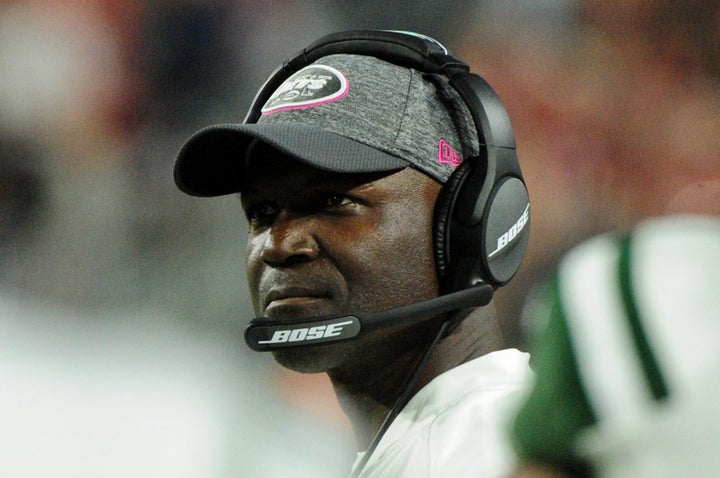 Whether Fitzpatrick was right about owner Woody Johnson is debatable. What is not debatable, though, is that with him under center the team has amassed a measly 3-6 record, well on its way to a sixth consecutive season missing the playoffs. Fitzpatrick's 13 picks, meanwhile, are the most by a landslide, and he ranks dead last in both completion percentage and quarterback rating.
However, if there remains a silver lining to a string of losses, it's that you can begin to take chances you otherwise wouldn't consider if things were going well.
Bottom line: It would behoove the Jets to start exploring this concept, namely at the quarterback position. While the Geno Smith experiment has been a flat-out disaster since Day One ― he's now injured for the remainder of the season ― we cannot say the same about Bryce Petty.
Petty, the team's fourth-rounder in the 2015 draft, produced a highly prolific career at spread-happy Baylor in the Big 12, totaling a remarkable 62 touchdown passes and more than 8,000 yards in two years as a starter. At 6 feet 3 inches and 230 pounds, Petty possesses the trademark size and arm strength NFL general managers covet.
Of course, like the heavily maligned Jared Goff in Los Angeles, Petty worked solely out of the shotgun in college without the distinct responsibility of calling plays from the huddle.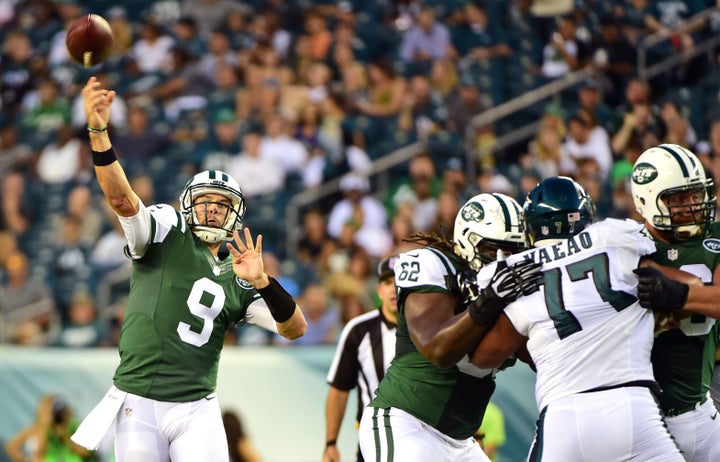 Perhaps Petty is no more than a career backup at this level. Or, perhaps he is a hidden gem, who might just surprise us all. We will never know so long as the ineffective Fitzpatrick remains QB1.
Maybe Bowles ― who has repeatedly said Fitzpatrick gives his team the best chance to win ― has received pressure from his front office to play Fitzpatrick, considering that just this past July he inked a one-year, fully guaranteed $12 million deal. Or maybe Bowles believes the 25-year-old Petty simply is not ready to command the starting position. But isn't it time to find out, one way or the other, if Petty is that guy? Or, at the very least, if he can become that guy?
At this point we know for certain what Fitzpatrick is ― and what Smith is for that matter. And neither is inspiring.
The Jets ― despite losing receiver Eric Decker for the rest of the year ― still have viable offensive weapons at their disposal in running back Matt Forte and six-time Pro Bowl wideout Brandon Marshall. In other words, the cupboard isn't bare for Petty, and with seven games left, the franchise can find out whether it needs to get another quarterback in the offseason. Remember, too, that the league has never before seen such an influx of young quarterbacks yielding such positive results. This isn't to say that Petty will be nearly flawless like Derek Carr in Oakland or accumulate numbers like the impressive Dak Prescott in Dallas, but who's to say he won't.
Fitzpatrick appears to understand just how inept he's been too, particularly after tossing two more interceptions in Sunday's 27-23 loss to Miami.
"As the quarterback and the guy that's making a lot of the final decisions," he said, "whether it's to throw the ball or whether to run or check to the pass or vice versa, a lot of it falls on the quarterback."
In the NFL at least, it always does. The "Fitzmagic" of 2015 is long gone. The Jets' remaining schedule is brutal, with two tilts against New England left, along with games against quality defenses like the Rams and Bills. To be sure, nothing gets easier.
For Bowles, for this franchise and for its fans, the time has come to turn the page and start fresh with the younger and possibly more electric Petty.