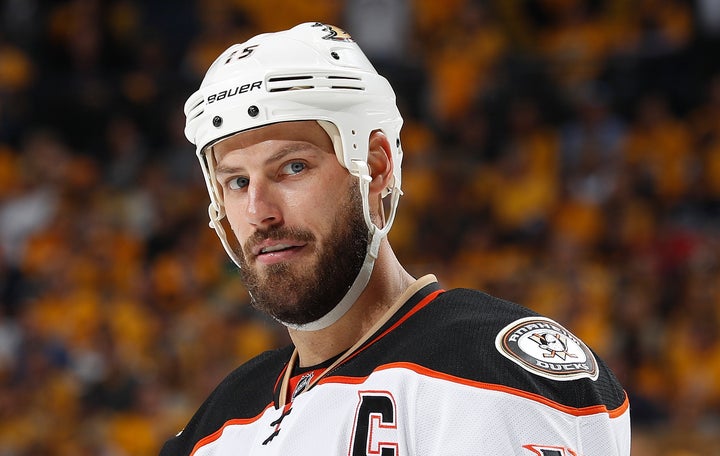 Just when it seemed like the response to National Hockey League star Ryan Getzlaf's use of a homophobic and sexist slur couldn't get any more disappointing... it just got more disappointing.
"There were obviously some words said, not necessarily directed at anyone in particular, it was just kind of a comment. I've got to be a little more responsible with the words I choose. As a father, as somebody who takes a lot of pride in this game, it's tough to see somebody refer to it as what TSN did. I didn't mean it in that manner in any way, and for that to go that route was very disappointing for me. I accepted responsibility and I accepted it fine. We talked to the league and I understand it's my responsibility to not use vulgar language, period, whether it's a swear word or what it is."
Now, one fan is attempting to reward Getzlaf for his indefensible comment by raising money in his honor.
Lamb claims that Getzlaf was "unfairly given the maximum fine... for accurately calling a ref a rooster vacuum." He hopes to raise $10,000 to give to Getzlaf to donate to a charity of his choice or states that he will donate the money himself to a local Orange County charity if Getzlaf doesn't want to be involved with the campaign.
As of Tuesday afternoon, only $280 had been pledged.
"I ask all ducks fans and all [NHL Commissioner] Bettman haters to unite and undue this terrible injustice! Ducks fly together!" Lamb wrote. 
Raising money for good causes? Awesome. 
Doing it because you think Getzlaf was the victim of some kind of injustice for (barely) being punished for his homophobic remark? Please.
REAL LIFE. REAL NEWS. REAL VOICES.
Help us tell more of the stories that matter from voices that too often remain unheard.
BEFORE YOU GO
PHOTO GALLERY
Iconic Sports Photos