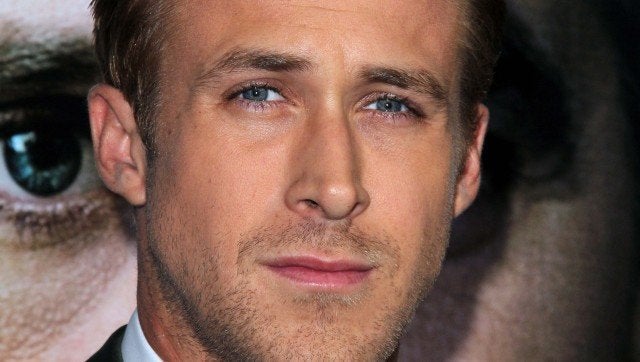 Shoulder to shoulder like Homeric heroes, Ryan Gosling and Bradley Cooper descended the long stairs at the Landmark Theater on Thursday night, joining Eva Mendes, Ray Liotta, Dane DeHaan and others of the cast and crew onstage for the premiere of Derek Cianfrance's new movie, The Place Beyond the Pinesv. The two actors, perhaps the best of their generation, deliver deft performances as their fictive lives twine, one a carny, the other a cop, in this triptych about fathers and sons on the American landscape, making this the most thrilling two and a half hours of storytelling in the cinemas right now.
If you are looking to mix your epic drama with realism, Schenectady is perfect: an upstate New York locale of tract houses, scruffy trailer compounds, blue-collar diners, and secretive woodsy places, where men can meet, (or not meet) for justice served on its own terms. A mysterious stranger with a special "skill set" on motorcycles, Luke (Gosling) wants to father the son he has with Romina (Mendes), and goes rogue. Avery Cross (Cooper) stops him dead. Trained in law, and with political ambition, he betrays corrupt officers led by Liotta, advised by his father who is a judge (an excellent Harris Yulin). In the third act, these events are visited upon their sons: AJ (full lipped, baby faced Emory Cohen who sounds a bit like Brando by way of Queens), and Jason (DeHaan) become friends sharing moody teen alienation and a taste for "oxy." In the end, you learn just what it takes to leave Schenectady.
Katie Holmes, Patricia Clarkson, Oliver Platt with his son George made their way to the Bowery Hotel. Cianfrance's wife Shannon Plumb, fresh from her premiere of New Director's Towheads, joined in. Bradley Cooper took a break from shooting his next film in Boston with his Silver Linings Playbook director David O. Russell. Ryan Gosling's collaboration with Drive director Nicolas Winding Refn, Only God Forgives, is due in the fall. Eva Mendes will star in a comedy with Larry David.
Dane DeHaan was with John Krokidas, director of Sundance hit Kill Your Darlings; DeHaan plays a character based on beat icon Lucien Carr. When asked whether his skin had been purposely pimpled, a sure sign of adolescent angst for The Place Beyond the Pines, the pale actor said, "Just the opposite. I wore less makeup than I am wearing now."
Calling all HuffPost superfans!
Sign up for membership to become a founding member and help shape HuffPost's next chapter