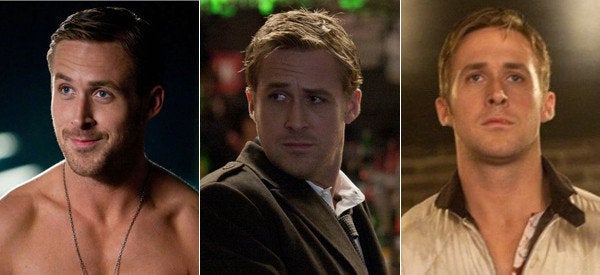 We will look back on 2011 as the year of Middle Eastern uprising, domestic political paralyzation and, most importantly, the year Ryan Gosling took over the world.
Sure, he'd been around since childhood, starting out on "The New Mickey Mouse Club" with Justin Timberlake and Britney Spears. And yes, he became a romantic icon with his 2004 turn in "The Notebook," and even earned an Oscar nomination for playing a drug addicted teacher in 2006's "Half Nelson." But starting with the momentum of his equal parts romantic and crushing (nearly) NC-17 drama with Michelle Williams, "Blue Valentine," Gosling's 2011 put him on the A-List.
Gosling had three major films come out this past year, with each representing a very different genre. He earned Golden Globe nominations for his conflicted political aide in "The Ides of March" and his alpha male-turned-romantic in the romcom "Crazy, Stupid, Love," while his silent hero in "Drive" netted him nods for Independent Spirit, Critics' Choice and Satellite Awards. Altogether, they won him a key honor: Time Magazine's Coolest Person of the Year.
It's hard to say which of his performances was the best -- that's totally subjective. But we can compare and contrast some of their key elements, which is exactly what we'll do. Of course, when it comes to Ryan Gosling vs. Ryan Gosling vs. Ryan Gosling, everyone's a winner.
"The Ides of March": Gosling's Stephen Meyers predominantly wore a suit (though a crucial scene saw him, ahem, not in his suit), and sharp as they were, they were of the conservative political variety.
"Crazy, Stupid, Love.": One of the great montages in the film occurs when Gosling takes Steve Carell's hapless Cal to get some brand new duds. Gosling's character Jacob is a top personal shopper; he has impeccably tailored suits and plenty of other expensive menswear one might find recommended in Esquire Magazine. Of course, it's his scene with the shirt off that really made headlines.
"Drive": Just two words: Scorpion Jacket. And as the movie got more gruesome, his Driver continued to wear it, collecting blood from every adversary he gruesomely battered. Now, you can even have your own (blood not included).
"The Ides of March": Meyers goes from speaking in the idealistic tones of a young political believer to hissing desperate threats and pleas. One line that defines his character's original outlook: "We're gonna be fine. We have to do it, it's the right thing to do and nothing bad happens when you're doing the right thing." That softens a bit, into: "I'll do or say anything if I believe in it, but I have to believe in the cause."
"Crazy, Stupid, Love.": He's a slick talker with more confidence than should be legal. To illustrate his personal philosophy (at least his philosophy at first): 1. "Are you the billionaire owner of Apple Computers?... Oh, ok. In that case, you've got no right to wear New Balance sneakers, ever." 2. "The war between the sexes is over. We won the second women started doing pole dancing for exercise."
"Drive": Part of his character's appeal is his silence. He's mysterious, a sort of mythical hero driving stunt cars in Los Angeles. He says more than enough with his eyes -- and a few manual weapons. Here's the line that defines him: "If I drive for you, you give me a time and a place. I give you a five-minute window, anything happens in that five minutes and I'm yours no matter what. I don't sit in while you're running it down; I don't carry a gun... I drive."
"The Ides of March": This is what gets him in trouble. But how can you blame him when a very forward Evan Rachel Wood is seeking him out for some personal politicking?
"Crazy, Stupid, Love.": So, which woman are we talking about? The plethora of ladies that he takes home without so much as half an effort? Or Emma Stone, his great life-changing challenge? Either way, the number of women who flip for his Jacob closely mirrors the excitement he generates on Tumblr.
"Drive": It's complicated: Carey Mulligan is ostensibly his love interest, but in some ways, it seems like he's more a fairy tale guardian than possible match. Complicating matters is her incarcerated husband. But it's hard not to melt at this line, one of the few times we see beneath his hood: "I just wanted you to know... just getting to be around you and Benicio was the best thing that ever happened to me."
"The Ides of March": He drove a campaign bus to a date, which is pretty baller in a Beltway suave kind of way.
"Crazy, Stupid, Love.": Jacob drives a sweet sports car, but one gets the feeling that it's really more of an affectation and compensation than true statement of coolness.
"The Ides of March": Going toe-to-toe with George Clooney is pretty brave, but it's a bit more sleazy than anything else.
"Crazy, Stupid, Love.": So, he turns into a giant mushball, so it's hard to pinpoint a scene where Gosling rises to the tough guy occasion here. But falling in love is pretty badass, especially when it's with Emma Stone, right?
"The Ides of March": For a guy from Canada, weirdly Brooklyn-ish.
"Crazy, Stupid, Love.": For a guy from Canada, weirdly Brooklyn-ish.
"Drive": For a guy from Canada, weirdly Brooklyn-ish.
Tune in this time next year for a comparison between his roles in the upcoming "Gangster Squad," "The Place Beyond The Pines" and "Only God Forgives."
PHOTO GALLERY
Ryan Gosling 2011 Movies
Calling all HuffPost superfans!
Sign up for membership to become a founding member and help shape HuffPost's next chapter
BEFORE YOU GO
PHOTO GALLERY
Ryan Gosling