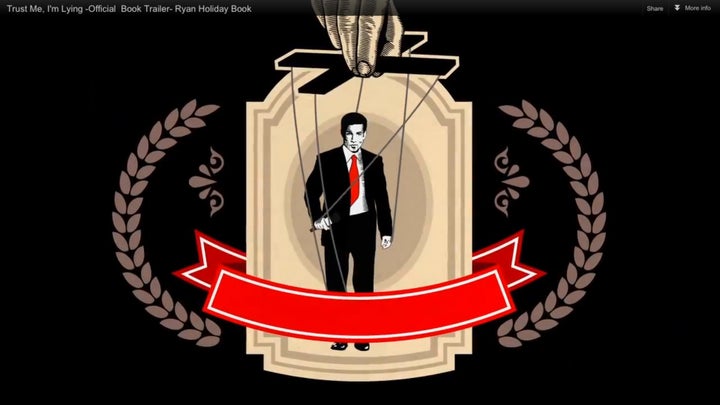 Describing Gawker, Jezebel, Business Insider and many other blogging news portals as a 'monster' that can't be tamed, Holiday blows the lid on a corrupt, page-view-centric media that is destroying lives. As the director of marketing for American Apparel, and PR agent for New York Times bestsellers, he's got some experience.
The book is split in two:
1. How to do it
2. Why not to do it
The first part, I imagine, is what most people will be most interested in. Holiday uses real examples from his own work and what he's seen others do, to explain how to manipulate the media into reporting whatever you want -- boosting profits and destroying others.
Holiday created fake personas and sent fake scoops to blogs, then wrote fake comments and provided fake traffic time and time again. This resulted in the scoops becoming real, the article being republished across the world, and history changed to the way that suited him and his clients (he'd use these articles as citations to prove the fake news in Wikipedia).
The book was so astonishing, I read it in one sitting. Think the war in Iraq was a set up? Holiday sure does.
In the second part, Trust Me, I'm Lying turns more into a philosophical outlook, showing why this is all bad. Although he doesn't show how the monster can be slain, he does make us aware that the problem exists, and that's the first step.
The way the media is organized today is bad, he argues, because it no longer cares for quality journalism. Sources aren't checked. Facts are dubious guesses at best. Mistakes are never corrected. No, the media cares more for gossip and things that make readers emotionally charged -- as that's what makes us share stuff.
Holiday is actually a blogger for The Huffington Post (see him here), and right now his book is causing some media and PR giants to seethe with anger. Peter Shankman, owner of PR service HARO (that I wrote about here) even threatened to punch him in the face. Harsh. But then again, that's exactly what Holiday wanted.
You see, when you read a book called Trust Me, I'm Lying, you do have to ask what his true motivations are. To come clean? To create a pre-emptive strike against anything he might do in the future? To make millions? Who knows. Follow him around the internet and you'll see he's used some of the very same strategies mentioned in promoting this book. Yet, would you expect anything else?
If you read the news, read this book.
Calling all HuffPost superfans!
Sign up for membership to become a founding member and help shape HuffPost's next chapter