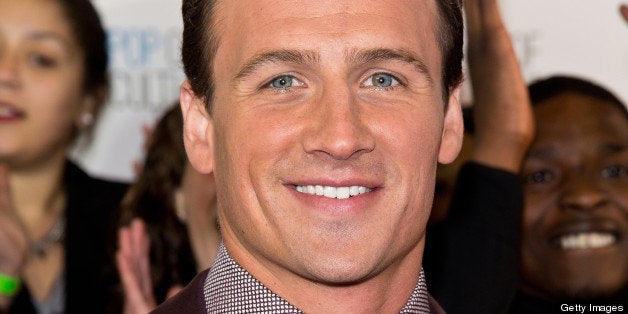 These days, our knowledge of celebrities too often originates with paparazzi images and snarky quotes by anonymous "insiders." After a while, it's easy to forget that stars are real people. That's why HuffPost Celebrity decided to launch its all-new #nofilter quick-fire question-and-answer series. Because how well do you know someone until they've shared their guiltiest pleasures?
Still, although he's focused on being the next big reality star, Lochte insists that his true passion is and always will be swimming and that he is training to be a part of the 2016 Olympics in Rio. Lochte chatted with HuffPost Celebrity at the 2013 E! Upfront in NYC on April 22. Jeah!
What's your guilty pleasure?
I don't know if it's a guilty pleasure, but pizza and wings. Every Friday night, without fail, since I was 8 years old, [I eat] pizza and wings.
What's on your nightstand?
Do I even have a nightstand? [pause] Uh, right now it's … oh, I got a Buddha. A Buddha that has a diamond necklace around it.
What's always on your DVR?
You know, I actually have a new favorite show, it's "What Would Ryan Lochte Do?" [laughs]
You're an Olympic swimmer and now a TV star -– is there anything else you aspire to be?
I'm still a swimmer, I'm not going to let that go away. I'm still training until the 2016 Olympics, so that's my first and foremost passion. And now reality star and when it's all said and done and I hang up the Speedo, I want to start designing my own clothing line.
What's your ideal woman like?
Honestly, I don't really have a preference. The quickest way to my heart is if you make me laugh. Make me laugh and smile because you know what, that's what life should be all about is laughter. So that is the quickest way. I don't care if they're black, white, tall, short, round, brunette, blonde, it doesn't matter. You make me laugh, you're on the right track.
Who's your celebrity crush?
I saw Sports Illustrated magazine and I saw Kate Upton and she was looking good, but of course, my all-time favorite is Carmen Electra. I mean, growing up and watching "Baywatch," that's it.
Who or what are you jealous of lately?
I'm not jealous of anybody because I'm going to live my life the way I want to live it. I'm not going to be like, "Oh my God they have this, I want that." I'm having fun, I have a great family, great fans … I'm all set.
Calling all HuffPost superfans!
Sign up for membership to become a founding member and help shape HuffPost's next chapter
BEFORE YOU GO
PHOTO GALLERY
They said WHAT? #nofilter