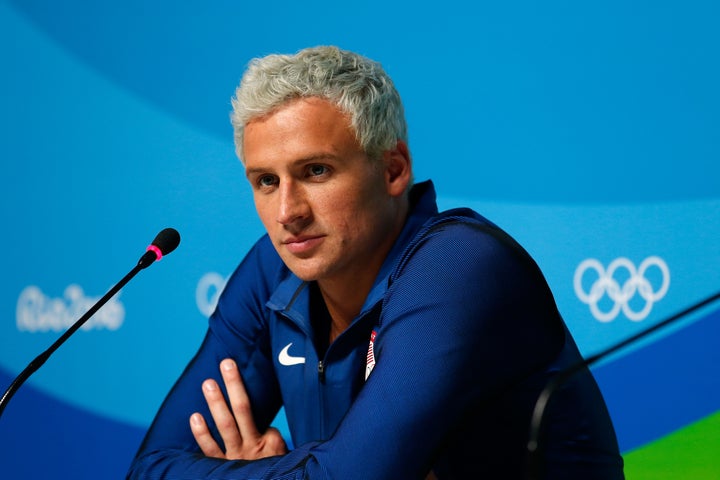 WASHINGTON ― Ryan Lochte on Saturday said he exaggerated a story about being robbed at gunpoint in Rio de Janeiro, speaking in his first televised interview since large portions of his initial account were debunked.
"I over-exaggerated that story and if I never did that we wouldn't be in this mess," a newly brown-haired Lochte told Matt Lauer, a co-anchor of NBC's "Today Show." "It was my immature behavior."
Excerpts of the interview aired during "NBC Nightly News" on Saturday evening and then later in the evening during the network's Olympics coverage, but the full interview will appear Monday morning on the "Today Show."
In a longer excerpt of the Lauer interview released later on Saturday, Lochte apologized profusely to the three swimmers out with him that night for returning to the United States and leaving them to face the consequences for his actions.
"I let my team down," Lochte said. "I wanted to be there."
He went on to extend his apologies to spectators, as well as his fellow U.S. swimmers and all athletes competing in the games for drawing attention away from their accomplishments.
"I made a mistake and I definitely learned from this," Lochte said, fighting back tears. "I'm just really sorry."
In addition, Lochte said he was "really sorry" to the Olympic Games' host city and country for tarnishing their reputation with a story that conjured up hurtful stereotypes.
"The people of Rio, of Brazil, the authorities, everyone there, they put on a great games," he said.
Asked why he made up aspects of the story in the first place, Lochte suggested he had still been feeling the effects of alcohol from the night before.
"I don't know why," Lochte said. "It was still hours after it happened and I was still intoxicated. I was still under that influence."
But, he added, "I'm not making me being intoxicated like an excuse ― I'm not doing that at all. It was my fault."
The remarks are Lochte's frankest admission yet that he essentially fabricated a story about paying for vandalizing a gas station last weekend after first saying he was robbed at gunpoint. An apology posted to Twitter on Friday conceded that he was not as "candid" as he could have been about what occurred, but stopped short of a clearer adoption of responsibility.
The incident has angered many Brazilians sensitive to their country's reputation for crime and created an international embarrassment for the United States that could yet upend Lochte's swimming career.
Brazilian authorities recommended on Friday that Lochte and fellow swimmer James Feigen face charges of false reporting of a crime.
The Olympic host country's law enforcement claims that Lochte and three teammates vandalized a bathroom at a gas station and fought with a security guard. The players, including Lochte, have admitted that they paid security guards for the damage.
The gas station owner told a Brazilian news outlet that at least one of the swimmers urinated on a wall. Swimmer Gunnar Bentz later said they all did. (Bentz released a lengthy statement claiming that Lochte had pulled a sign from a wall near the bathroom and yelled at the security guards once their guns were out.) Video from the gas station released by Brazilian authorities indeed appears to show the athletes exhibiting boorish, drunken behavior.
Lochte's original account of the incident cast him as something of a hero. The 32-year-old told NBC's Billy Bush last Sunday that he and teammates Bentz, Feigen and Jack Conger were robbed at gunpoint early Sunday morning on their way to their Olympic village lodgings from a night out.
Lochte even claimed to have confronted the gunman and refused to get down on the ground while the man held a gun to his head. This initial account claimed he was forced to hand over his money and wallet but not other valuables.
The swimmer, beloved as a colorful runner-up to superstar Michael Phelps, then changed his story in a Wednesday interview with Lauer, clarifying, among other things, that the gun was not at his head but pointed in his general direction.
Brazilian officials suspicious of Lochte's account pulled Bentz and Conger from their return flight to the U.S. on Wednesday for questioning. A Brazilian judge also ordered police to seize Lochte and Feigen's passports so they could be questioned, but Lochte had already returned to the U.S. on a commercial flight.
Feigen has since agreed to give $11,000 to a Brazilian charity in order to retrieve his passport.
Lochte apologized for his behavior in a statement posted to Twitter on Friday without explicitly admitting to fabricating the details of what occurred.
"I want to apologize for my behavior last weekend ― for not being more careful and candid in how I described the events of that early morning and for my role in taking the focus away from the many athletes fulfilling their dreams of participating in the Olympics," Lochte said.
In the Saturday interview with Lauer, however, Lochte maintained that the gas station guards' drawn guns made the event confusing and scary. He was not completely certain at the time, he claims, that the money they were being asked to hand over was for the damage they had caused through their drunken antics.
"We just wanted to get out of there," he said. "There was a gun pointed in our direction. We were all frightened."
This story has been updated to include comments Ryan Lochte made in an excerpt of his interview with Matt Lauer released later on Saturday evening.
Related
Before You Go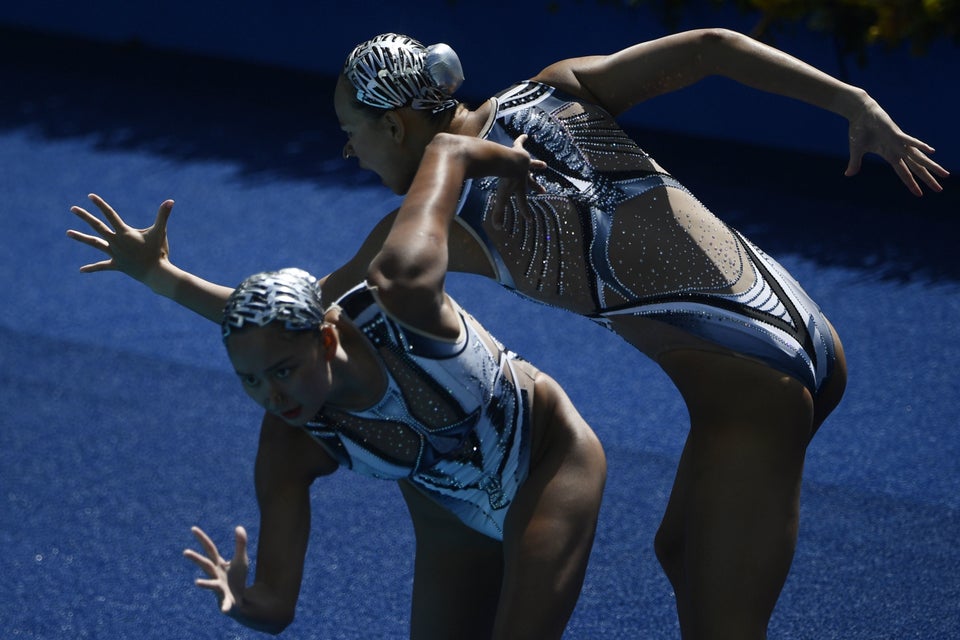 Synchronized Swimming At The Rio Olympics
Popular in the Community