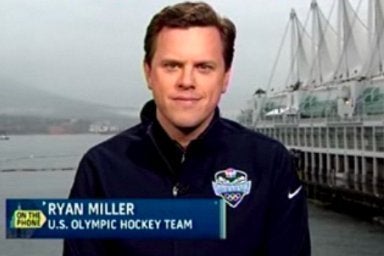 MSNBC was duped Friday during a phone interview with a person claiming to be Ryan Miller, the goalie for the U.S. Olympic hockey team.
During a live interview, the prank caller pretending to be Ryan Miller guaranteed that the U.S. would win the gold medal in the finals on Sunday.
MSNBC later interrupted "Hardball" to explain and apologize for the mistake. Willie Geist interviewed the real Ryan Miller and apologized for the mistake. Miller told Geist that he would never be so cocky as to guarantee gold.
Friday's prank call was the second on-air sports prank call this week. A caller pretending to be former Eagles running back Brian Westbrook pranked ESPN. That joke became clear when the fake Brian Westbrook said he looked forward to "worshipping Howard Stern's prostate."
WATCH: Geist gets pranked, then offers apology
Related
Popular in the Community