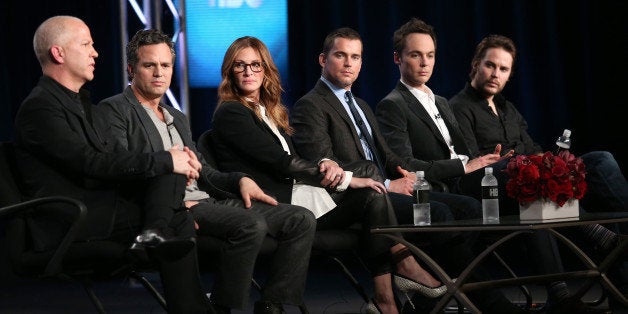 Producer and director Ryan Murphy, wrapping up the sixth and final season of " Glee" and now in the thick of his latest TV series, "American Horror Story," said he woke up one day in 2009 and wondered about the fate of the film adaptation of Larry Kramer's searing, largely autobiographical Tony Award-winning AIDS drama, "The Normal Heart," which exposed America's callousness toward a gay community living through the horrors of the burgeoning AIDS epidemic in the early '80s.
"Literally, I woke up one day in 2009," he explained, "and I thought, and said out loud to my producing partner, 'What ever happened to the movie of "The Normal Heart"? It's ridiculous that this has not been made. Why?'"
He learned the rights were available, and soon after he was on a flight to New York to meet Kramer, who'd wanted to get the play made into a film for more than two decades, and had had a famous falling out with Barbra Streisand, who'd had the rights for over 10 years and hadn't gotten the project off the ground.
"Larry didn't know who I was," Murphy remembered, speaking with me in an interview on SiriusXM Progress. "And I sat in a room with Larry and the executor of his estate. And I remember walking in and thinking, 'I'm not leaving here until I get these damn rights. I don't care what it takes.' And it took a lot."
"So I broke into my IRA account and I bought the play," he continued. "And I own the play. It wasn't a thing where I leased it for a couple of months. Because I didn't want Larry to go through what he'd gone through before, which was literally 25 years of heartbreak and development hell and broken promises."
Thus began the project that culminated with the emotionally-jolting film "The Normal Heart," debuting on HBO this Sunday, May 25, starring Mark Ruffalo as Ned Weeks, the character based on Kramer, who in the very first years of the AIDS epidemic, as friends died all around him, railed against government and community indifference and, with several others, created Gay Men's Health Crisis. The cast includes Julia Roberts, Matt Bomer (playing the role of Felix Turner, Ned's boyfriend, a New York Times reporter), Jim Parsons, Joe Mantello, Taylor Kitsch, Denis O'Hare, Alfred Molina and Jonathan Groff.
For Murphy, who is openly gay and who came of age as the AIDS epidemic began to mushroom, taking on the project meant a lot. But it wasn't until it was finished that he realized just how much.
"Larry's passion and fire, just that idea of, 'Why is no one doing anything?' really resonated with me as a young man," the 48 year-old director recalled. "And of course I had sex for the first time in 1981, the year the play begins, the year the AIDS crisis begins. So for me, I grew up thinking 'Well I'm going to die.' I thought, 'I'm gonna die.' Every day. I always thought like I was really on borrowed time, which is where I think a lot of my ambition came from, because I felt I have a lot to do and maybe not a lot of time to do it in. So, only when I finished the movie did I realize, for me, what a cathartic thing it was, and how much pain and loss and death that I had sort of filed away in my life. So it was very powerful, a very moving experience for me."
"The Normal Heart" lays bare the devastating negligence of all levels of government, from the administration of New York City Mayor Ed Koch, portrayed as a fearful closet case (as are several others in power who refused to help), to that of President Ronald Reagan, locked in the grip of the Christian Right. But the gay community itself comes in for much criticism for not wanting to face an epidemic that would so alter a culture of sexual liberation. Kramer, with the publication of his 1978 book, Faggots, like Ned Weeks in the film, had been a critic of the gay bathhouse and sex culture even before AIDS had become a reality. But he and Murphy, as in the play, allow the debates over sex and the different points of view, particularly in those early days when it wasn't yet known that AIDS was caused by a virus, to unfold in a balanced way in the film.
"I didn't want the movie version of Ned to be constantly screaming into the wind," Murphy says about those discussions among the characters. "I also thought, and Larry agreed, that the interesting thing about the Ned character was that he was not perfect. Sometimes he said one thing, and then would do another thing because that was human behavior. I did love the idea that that character would talk about, you know, 'We're more than just our cocks.' And we went for those scenes as much as we could."
Kramer worked on the script with Murphy for three years, after which Murphy said the film was relatively easy to get made compared to the reported struggles of the past, with offers coming in, particularly after he had Ruffalo and Roberts onboard.
"No matter how ill he was," Murphy said of 78-year-old Kramer, who's been battling complications from a liver transplant, "if he had an IV in his arm, he would sit in front of that computer and do 15, 16, 17 versions of the scene until we got it right… I would say the movie is 40 percent different from the play. And the great thing about Larry is that he's not precious about anything. And he is a screenwriter. He was nominated for an Academy Award in the early '70s for screenwriting. So he knows screenwriting. And he knows what works onstage is not what works in a movie. I think he was interested in the movie being a little bit softer at times, a little bit more emotional. And I think that the thing that the movie has that the play didn't is the advantage of history. Because the movie, to me, it's not really about AIDS or HIV. It's a very modern thing. It's about civil rights. It's about equal rights. It's amazing that back then, in the day, that play ended with a marriage between a same-sex couple, which was at the time radical and just crazy."
Indeed, the love affair between Ned and Felix is gut-wrenching, and is one of the relationships that drives the film, and that required Ruffalo and Bomer to perform some intense sex scenes, both in a bathhouse and in bed. Murphy brought in a "sex choreographer" to work with the actors.
"So we hired a guy who specializes in -- who's a former choreographer on Broadway -- who now specialized in sex choreography," he explained. "So he would come and he would work with the actors and it was like, 'Okay, then you move your leg here, and your asshole goes up here, and then your neck goes over here.' So we worked on it, so the actors felt like, 'Okay, I'm in "A Chorus Line." I can do it.'"
Even still, Ruffalo and Bomer, were "terrified," Murphy said. But he had them plunge right in.
"Mark, I believe, had never kissed a guy, ever, on camera," he said. "And he had certainly never had that level of sexuality. And I don't think Matt had either. So I had a gay actor [Bomer] and a straight actor. And they were both terrified. But I just threw them into it. And the first day of shooting was the scene in the movie where Mark has to walk out of a sauna where two guys are going at it and walk by Matt, and sort of ignore him, and Matt looks on lasciviously. We shot that almost as an homage to the bathhouse ads they used to run in New York in the early '80s on 'The Robin Byrd Show.' Remember those? Those were the days. So we just got into it, man. We just got into it. And they were nervous but they were game. They knew it was an important part of the story. They went for it."
Murphy said that although there was some tension between him and the fiery Kramer early in the process -- with Kramer calling and saying, "You're not working fast enough!" -- he realized the problem was his own "stupidity" in not understanding where Kramer was coming from.
"I realized at the end of the [writing] process, that, oh, I get it. He feels that he has been so alone in this fight, for so long, that this is the only way he knows how to survive," Murphy said. "And If I had known that psychology then, I would have said to him early on, 'You're not alone. I'm continuing your fight.' And I got to say that at the end."
Before You Go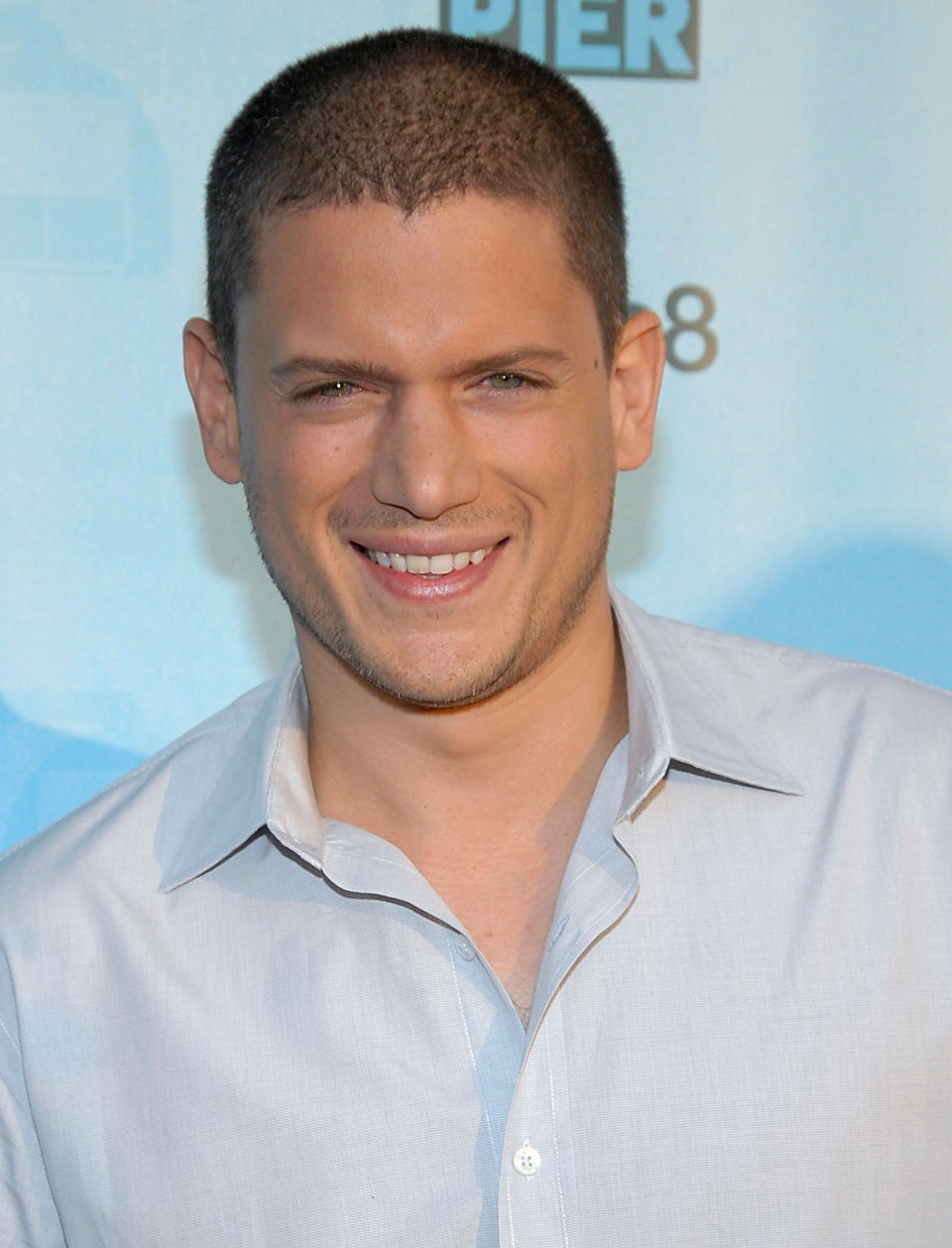 Celebrities Who Have Come Out As LGBT
Popular in the Community