 * Negotiators down to last items in two-year budget deal
* Mix of fee revenues, pension cuts would cut deficits further -aides
By Richard Cowan and David Lawder
WASHINGTON, Dec 5 (Reuters) - U.S. budget negotiators were down to the final, most difficult items in a two-year deal to avoid another federal shutdown next month and ease some across-the-board spending cuts set to hit military and domestic programs, congressional aides said on Thursday.
The small-scale agreement being negotiated by Senator Patty Murray, a Democrat, and Republican Representative Paul Ryan would lead to less than $100 billion in new savings, aides familiar with the talks said.
The savings would replace some of the cuts that went into effect automatically as part of the budget "sequestration" earlier this year, and would provide a small amount of additional deficit reduction, they said.
The deal being negotiated would set spending on discretionary programs ranging from the military to national parks for fiscal 2014 and 2015 at around $1 trillion each year. Without action, such spending would be automatically cut to $967 billion in 2014, the lowest level in a decade.
Ryan, the chairman of the House of Representatives budget committee and Murray, who chairs the Senate budget committee, are expected to continue their talks on Friday with the aim of a deal that can be passed next week, before the start of a House recess on Dec. 13.
"I'm hopeful that next week we can show the people of this country that we can produce something that is smarter than the way we're going about things now," said House Majority Leader Eric Cantor, a Republican.
But any deal's fate in Congress could hinge in part on whether it includes an agreement to extend long-term federal unemployment benefits due to expire later this month for some 1.3 million Americans. President Barack Obama and his Democrats want to extend the benefits to avoid job losses caused by reduced consumer spending, but Republicans question whether the benefits are still needed in an improving economy and are opposed unless it is offset by other savings.
Other difficult issues remain including a plan to require federal workers to contribute more to their pensions, which are separate from the Social Security retirement benefits system, and a move to increase airport fees.
Both measures could be part of a broader effort to either raise non-tax revenues or cut costs in order to ease some of the automatic spending cuts.
"The last few steps are the hardest," a Senate Democratic leadership aide said of the Murray-Ryan negotiations.
The $1 trillion top-line spending number, provided by a House Republican aide, would allow Senate and House appropriators to parcel out funding to the various federal agencies for the rest of this fiscal year, which began on Oct. 1, as well as the one that starts on Oct. 1, 2014.

Lawmakers, exhausted from three years of non-stop budget fights which culminated in a 16-day shutdown of many federal agencies in October, hope a deal would bring some sanity to the budget process. The string of budget crises has contributed to historically low public approval ratings of Congress.
Among the non-tax revenues considered in the talks is a contribution of around $10 billion from an increase in airport security fees paid by air travelers. Airlines for America, an industry trade group, estimates the Transportation Security Administration fee would double to $5 per ticket if the proposal is adopted, said Jean Medina, a spokeswoman for the group.
"We think this is really a wrong-headed move, especially when air travelers are already so heavily taxed," Medina said, adding that the trade group handed out air sickness bags at Reagan National Airport this week as part of a campaign to stop the fee increase.
Also unclear was whether any deal would contain a temporary "patch" to prevent a scheduled reduction in payments to doctors treating elderly patients in the Medicare program, a fix that tends to arise every year.
If Ryan and Murray do reach a deal, it could draw opposition from liberal Democrats, who do not support subjecting federal workers to additional budget savings, as well as from conservative Republicans, who will not get the long-term cuts to Medicare, Medicaid and Social Security programs that they have been seeking.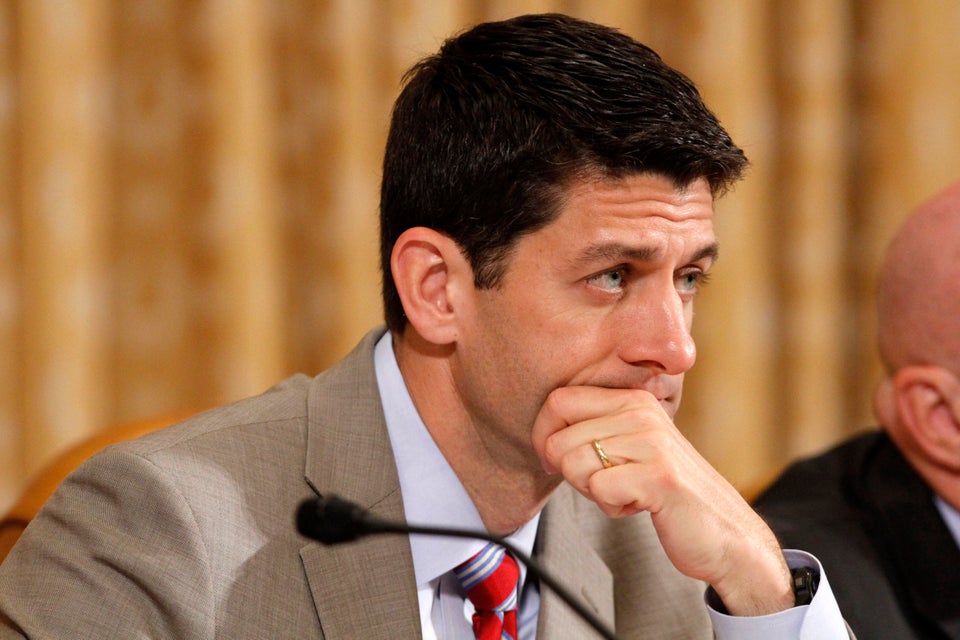 Paul Ryan Has Deep Thoughts
Popular in the Community