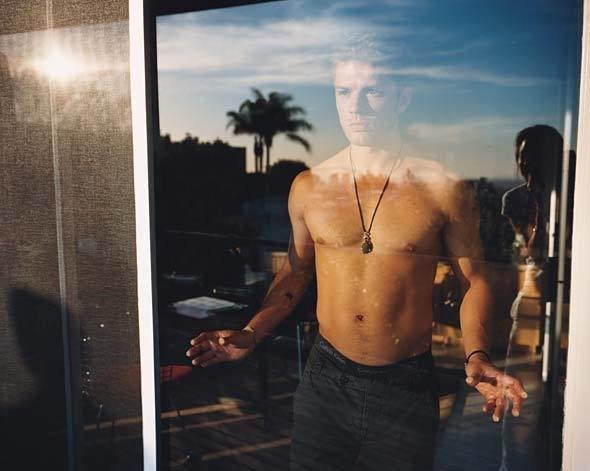 You'd think it would be easy to spot Ryan Phillippe. He's told me to meet him at the Viceroy hotel in Santa Monica. Outside, one of the heaviest rains in years is beginning to fall, and the lobby is practically empty. I station myself on a chaise longue right in front of the main door, where I'll be sure to get a good look at anyone who enters. A guy walks in wearing a couple days' worth of stubble, a gray sweatshirt, black cargo pants and a tweed military cap with the brim pulled low. I stare right at his face and then go back to reading the paper. It's only when this stranger circles back toward the men's room that I realize my mistake. I sheepishly call out to his back, "Ryan..." When Phillippe turns around, I apologize for not recognizing him, blaming the hat.
"Good," he says. "It works."
After the year Phillippe has had, one can easily understand why he'd want to travel incognito. His divorce from Reese Witherspoon--she filed papers in November 2006, and the proceedings were finalized this past October--had tabloids picking over every excruciating detail of their lives in search of what went wrong with the Hollywood golden couple.
The 33-year-old actor is understandably not eager to rehash the specifics. But he is forthright, genuine, even a little vulnerable when the topic comes up. Asked if he's slowed down his acting career--his upcoming film, Stop-Loss, about Iraq war soldiers, is one of just two films he's made in two years--he says, "I've had a lot of upheaval in my personal life. I wanted to take time to make sure that my kids were okay and to build a new life that was going to be suitable to being a single parent. Every once in a while you kind of want to take a step back and refocus to make sure you're doing it for the right reasons."
A little later, Phillippe says his divorce was "the darkest, saddest place I had ever been. It was a struggle--there were a good four or five months of not being able to get out of bed. It was the worst time in my life." These days, things are better. "You get through it. It's a process that's not easy, but I get less and less sad about it every day."
Watch a trailer for "Stop-Loss"
Popular in the Community