As the world burns actively around us and we struggle to cling to sanity, Ryan Reynolds and Blake Lively continue to maintain a semblance of normality and troll the life out of each other on Instagram.
On Wednesday, Reynolds posted a funny Instagram highlighting his 2010 film, "Buried," which he admittedly tweaked to promote his business venture, Aviation Gin.
"Before Deadpool, I was an actor. One of my favorite projects was a film called 'Buried,'" he wrote. "10 years later, it really holds up! Although I don't recall the aggressive product placement," he quipped, in reference to signs for his new brand inserted into the film.
"I think this just got me pregnant," Lively joked of the doctored clip.
Reynolds replied with a hilarious "out of office" message.
"I will be out of the office starting July 22nd through the middle of forever and ever," he wrote. "If you need immediate assistance during my absence, please contact someone. Anyone. Otherwise I will respond to your message as soon as possible upon my unlikely return. Thank you."
Reynold's gin brand added its own take on the clip, writing, "Ten years later ... this scene still is our favorite scene, and the prop stylist was robbed of an Oscar."
Actor Rob Delaney liked Reynold's self-deprecating caption: "'Before Deadpool I was an actor' If you say so!" Others commented on how spooky the movie was.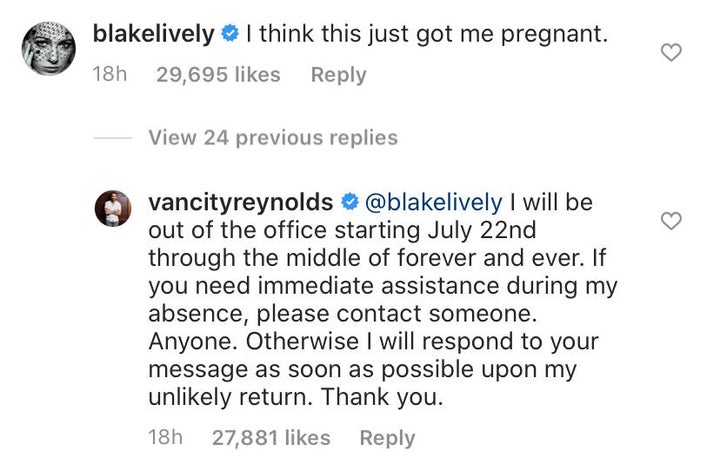 Reynolds earlier opened up about what it's like quarantining alongside Lively, their three daughters and his mother-in-law during a chat with Stephen Colbert in April.
"We're doing a lot of home-schooling. We're lucky enough to have a little, tiny garden, so we're learning a little bit about gardening. We're trying to make this an educational experience, but I'm mostly drinking," he said.
The entertainer also said that he enjoyed being around all women and didn't miss masculine company at all.
"Really, most men tend to just be the architects of someone's demise. So it's fine. I like just being here with the girls. I like doing the girls' stuff," he added.
Popular in the Community