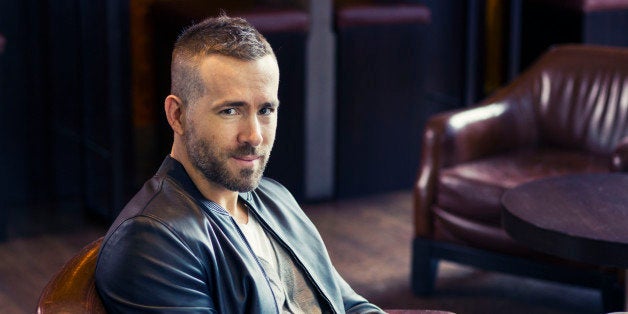 "We can't believe that somebody cut a check to let us make this movie. Although they cut a very small check because it doesn't have the catering budget of most 'X-Men' movies, but it's still cool," Reynolds told HuffPost Entertainment. "We're just at the crest of our first week so it's been amazing, actually. It's been a long time coming, but it doesn't come with that kind of attitude. A core group of people have been developing this for the last five years and we're all just very giddy at this point."
But before we see Reynolds in that red and black bodysuit, he'll appear on screen as attorney E. Randol Schoenberg in "Woman in Gold," which tells the true story behind Jewish refugee Maria Altmann, who, together with Schoenberg, fought the government of Austria for almost a decade to reclaim an iconic painting of her aunt after it was confiscated from her family by the Nazis in Vienna just prior to World War II.
Reynolds spoke about working with Helen Mirren (who plays Altmann in the film), as well as acting alongside Charles Dance (who plays Tywin Lannister on HBO's "Game of Thrones").
Tell me about working with Helen Mirren. Did you take anything away from her acting process?
I loved working with her. I mean, who wouldn't? She's a national treasure, and by national I mean international. She's incredible and I loved spending every day with her. We always saw the movie as a bit of a love story between these two, which is unorthodox, for sure. I think it was that invaluable foothold that really allowed us to dive into the characters. And she was so professional. I mean, she still gets nervous on the first day, which to me was the greatest revelation I had working with her. How great is it that you can have a body of work like her and still feel like all the chips are on the table before a film? That's pretty exciting.
What was it like to mix in comedy with a dramatic film about an historical event such as the Holocaust? You had this great back and forth going with Helen ...
I think it works really well. I think some of the best dramas out there have comedy and comedies have drama in them. The two go hand-in-hand. I think it's important to have levity. This is a heavy story, an historical lesson and all these different things are important, but you can never lose sight of having a little fun with it as well. And that was something that I really latched on to early on when Randy explained how he and Maria Altmann were together, and they were a little but like the Bickersons, and that was something that we really wanted to put onscreen.
What was the casting process like?
I was sitting on the set of "Mississippi Grind" in New Orleans and my phone rang and on the screen was "Harvey Weinstein," and I hadn't heard from him in a long time. I answered the phone and he just said [in Weinstein's voice], "Reynolds, it's your lucky day." And the next thing I knew I was reading the script. When you get a call like that from somebody as cool as Harvey Weinstein, you sit up straight for a little while.
And it's an extraordinary cast -- you have Katie Holmes, Tatiana Maslany, Daniel Brühl, Charles Dance from "Game of Thrones," which is always a good person to have in a movie, at least to me.
Yeah, I know. I'm such a "Game of Thrones" mess, so ...
I was going to say, if you're a fan, that must be pretty cool to have a few scenes with Tywin Lannister.
Yeah, it was like vaguely intimidating actually because you just can't help but think of that character that he plays. He's a really formidable presence on the set. All said and done, you couldn't have been surrounded by a better group of people. Everybody from top to bottom, small roles to big roles, everybody was great.
A little bit of the movie has to deal with fatherhood, and you're balancing this amazing work opportunity with missing moments with your family. Do you find that relates to your own life sometimes, now that you're a new dad?
No, I haven't missed much because I don't want to. I have enough sense about me to recognize the pitfalls of missing those things. I think when you're 85 years old and you're looking back on your life and you're thinking, "Holy shit, I wish I did another film," or you're thinking, "I wish I spent more time with my kid," those things are tough. So I really try to be as cognizant and aware of that now, as to not regret it too much later. You just prioritize and make time and, you know, for most people in the United States and all over the world, that's not really an option -- they just have to go away and go to work. And I realize how lucky I am that I'm able to a certain degree say, "You know what? I want to be home for the next little while," and I can do it. So, I don't take that for granted for a second.
"Woman in Gold" hits theaters on April 1.
Calling all HuffPost superfans!
Sign up for membership to become a founding member and help shape HuffPost's next chapter
BEFORE YOU GO
PHOTO GALLERY
Ryan Reynolds on the Red Carpet