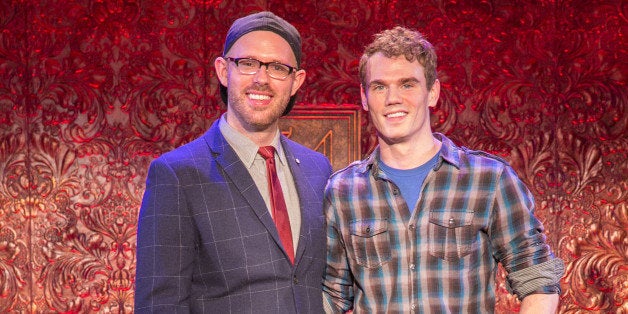 Ryan Scott Oliver could very well be musical theater's answer to an auteur filmmaker or a gothic novelist, and for good reason: the 30-year-old composer-lyricist says he's equally inspired by the likes of Quentin Tarantino and Stephen King as he is Stephen Sondheim.
"I like to think of my artistic perspective as being morbidly optimistic," Scott told The Huffington Post in an interview. Like Tarantino and King, he sees darkness as the common denominator in all of his work, noting, "I believe in happy endings, but I also believe that there's a lot of really, really awful sh*t that people have to go through in order to get there."
New Yorkers who aren't familiar with Scott's shows, like 2014's "Jasper in Deadland" and 2009's "Mrs. Sharp," will get an opportunity to be introduced to the scope of his musicality at Manhattan nightspot 54 Below on Feb. 2. The composer will join Broadway veterans Jay Armstrong Johnson, Lindsay Mendez, Andy Mientus and Derek Klena (among others) for two back-to-back concerts showcasing his eclectic -- and occasional eccentric -- melodies.
Jay Armstrong Johnson sings a tune from "Jasper in Deadland."
Though he's yet to be produced on Broadway, Oliver has already garnered a cult-like following among legions of theater fans, as evidenced by the fact that both performances were nearly sold out at the time this story was first published. That comes as little surprise to Johnson, who praises Oliver's music as "deep, rich, innovative and new."
"His stuff is never based on a movie or a book -- the source material is always his brain, which is twisted, genius and exciting," Johnson, who is currently starring in the Broadway revival of "On the Town," said. "He's always dealing with religion, he's always dealing with sexuality … things that are dark and semi-uncomfortable, but which always make you think. As an actor, you don't really come across many composers of that breadth and depth."
Oliver, who set out to become a composer in high school and aims to pen at least one new show every year, also acknowledges the inherently queer themes that thread his work. One example is his 2010 musical "Darling," which put a "dark, jazzy and sexy" spin on the story of "Peter Pan" by, among other things, recasting the Lost Boys as male hustlers. He says he's most drawn to narratives that feature the "fabulousness" and "shimmer" of traditional musical theater, but also highlight the triumph of an underdog.
"I really like creating underdogs as well as the people who will suppress them and aim to destroy them," he said. "I'm really fascinated by monsters that take human form."
Oliver married photographer Matthew Murphy (left) in 2014.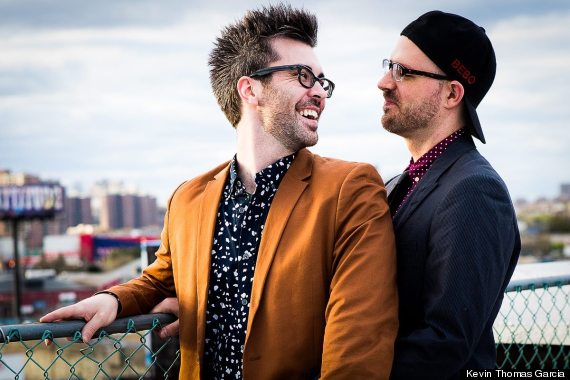 Fortunately, Oliver has found an ideal personal and professional partner in the form of dance and theater photographer Matthew Murphy. The couple collaborated on an experimental multimedia exhibition, "35MM," in New York in 2010 and 2012; Murphy has since gone on to shoot many of Oliver's shows, including "Deadland." In May 2014, they tied the knot in a Brooklyn ceremony officiated by Mendez.
Noting that he and Murphy have a "loving creative competition" with each other, Oliver added, "Our relationship is never jealousy-inducing, but I'm always aware of the fact that I'm married to a very talented, driven person. We set a good example for one another, and that's a very, very special thing. He's a genius, so that doesn't hurt either."
Actress (and longtime pal) Lindsay Mendez sings from "35MM."

So what's next for Oliver following his 54 Below engagement? These days, much of his creative energy is focused on a new, folk-driven musical called "Rope." A production of "Jasper in Deadland" opens in Seattle in May, and Oliver says he is hopeful that "Darling" will be fully staged in New York in the imminent future, following a reading in late January.
For now, however, Oliver is content to be creating the niche musicals he wants to make, even as mainstream Broadway audiences flock to jukebox shows like "Mamma Mia!"
"There's a crowd who wants to go to a musical for a good time, and there's a crowd who wants to see a musical to be changed," he said. "For me, if I write a good story, I think people will want to see it. You have to write the show that speaks to your heart in a given year."
"RSO at 54 Below" plays New York's 54 Below on Feb. 2. Head here for more details.
Before You Go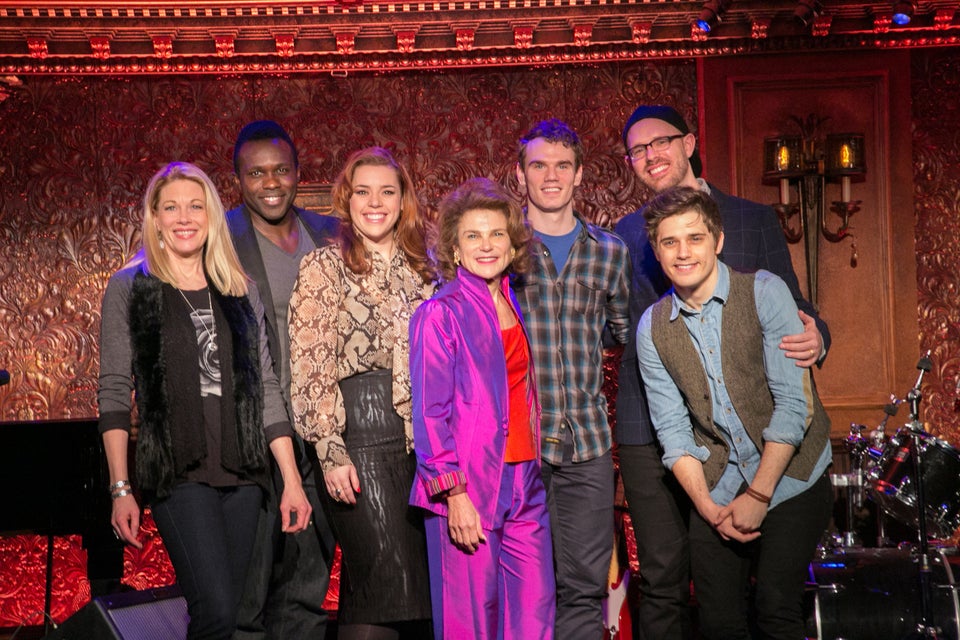 Coming Up At New York's 54 Below
Popular in the Community