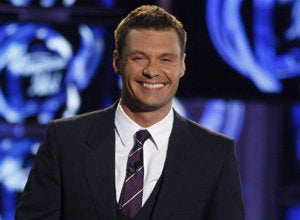 The Discovery Channel's "Shark Week" couldn't be getting better free PR.
"American Idol" host and radio superstar Ryan Seacrest announced on his radio show Monday that he was bit by a shark while in Mexico. Listen:
Ryan Seacrest was almost shark bait. The "American Idol" host was swimming in the Pacific Ocean in front of LG Villa Cabo in Mexico on Sunday when a sand shark swam by and chomped his toe. "He didn't know what it was for a minute - he thought it was a stick," said one spy. "He had no time to be scared. He saw it swim away, he got out, took aspirin and called it a day."
"I was bitten by a shark," recalls Ryan. "It swam up to me, and it took a bite, and then he left."

According to Ryan, the predator was the size of a cat and the incident took place offshore in water about 4 feet deep--with the shark leaving behind "three holes" in his toe.

"Don't let me fool you by my unbelievably comfortable state of being on the air right now, because I'm in pain."
Calling all HuffPost superfans!
Sign up for membership to become a founding member and help shape HuffPost's next chapter