Ryan Seacrest, nary a Time's Up pin to be found on his navy tuxedo, opened his 2018 Oscars red carpet coverage with a telling line: "It promises to be a very special evening."
Despite the sexual misconduct allegations leveled against him earlier this week by former personal stylist Suzie Hardy, everything was business as usual for Seacrest on Sunday. While his female co-host Giuliana Rancic set up at the nearby Hollywood Roosevelt Hotel, Seacrest parked on the red carpet ― no stage or special booth to prop him up, though. It was just him, a mic and enough celebrity traffic to sustain him for a few hours.
In fact, despite the Me Too mood of other awards shows this season, more than a few celebrities made their way over to Seacrest for a quick chat on Sunday. There was something eerie about watching women like Diane Warren, Allison Janney, Taraji P. Henson and Tiffany Haddish talk to Seacrest as if the recent reports just didn't exist. No one talked about the Me Too or Time's Up movements; no one questioned the ubiquitous TV personality.
On Monday, Hardy told Variety that Seacrest sexually harassed and assaulted her over the course of seven years. According to Hardy, Seacrest subjected her to many unwanted sexual advances, which allegedly included groping her vagina, grinding his erect penis on her and slapping her buttocks. She said she reported his behavior to E! News' human resources executives in 2013 and was terminated shortly after.
"As proud as I am and as strong as a woman as I am, as smart as I am and as much work as I've done with therapists, it really affected me," Hardy told Variety.
Seacrest vehemently denied the claims, which first surfaced last fall. In a statement on Tuesday, the "Live with Kelly & Ryan" and "American Idol" host said, "Yesterday, Variety published a salacious story that revealed the specific claims against me for the first time ― even though an independent third-party investigator found insufficient evidence to support the claims. Much to my dismay, Variety didn't speak with me or bother to speak with other credible witnesses or even ask for any of the evidence that was obtained during the investigation when offered, all of which clearly challenged the veracity of the claims made against me."
Seacrest added that Hardy repeatedly offered to step back her claims if he paid her "millions of dollars," which he refused to do.
"I have worked extremely hard to achieve my success and I don't take my opportunities for granted," he concluded. "I don't want to accuse anyone of not telling the truth but in this case, I have no choice but to again deny the claims against me, remind people that I was recused of any wrongdoing, and put the matter to rest."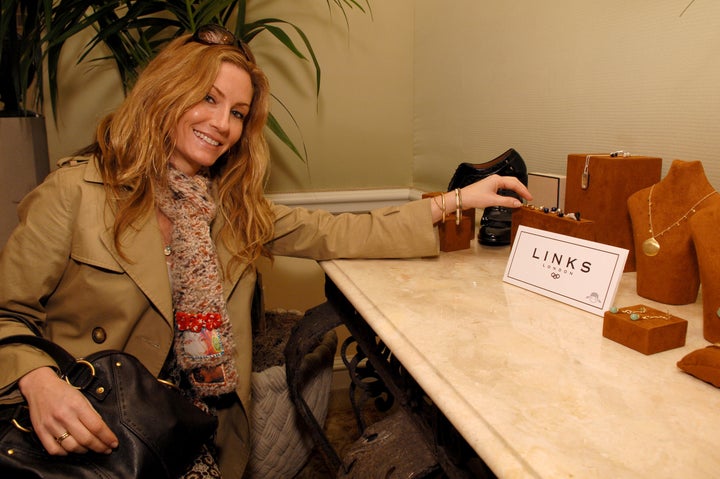 When asked if she felt Seacrest should still attend the Oscars, Me Too movement founder Tarana Burke told Variety, "We shouldn't have to make those choices of, 'Do we or don't we?' This is not about his guilt or innocence. It's about there being an accusation that's alive, and until they sort [it] out, it's really on E! News and shouldn't be on us. … It will let us know where they stand in terms of how respectful E! News is of this issue ― and of women."
But both E! and ABC backed their prized possession, keeping Seacrest on the air even though murmurs were swirling from New York to Los Angeles. Should he still host the red carpet? Will celebrities stop to talk to him? Will he address the allegations on live TV?
He did show up; a few major celebrities did stop for him; and he didn't address the scandal on "Live," nor did he use his time on the E! red carpet to say a word about it. He swears he's innocent, and it seems some people in Hollywood believe him. There were many ― both women and men ― who let him ask about their gowns, jewels and tuxedos, and smiled when he complimented their respective Oscar-nominated projects.
Interestingly enough, though, once the bigger stars started arriving to the event, Rancic and her E! red carpet cohorts, like Kristin Dos Santos, Brad Goreski and Josh Horowitz, started enjoying a bit more live screen time. Producers seamlessly jumped between Rancic and Seacrest ― perhaps to avoid airing any awkward moments as E! struggled to get bigger names and supporters of Time's Up. The network reportedly instated a live 30-second delay to, most likely, rescue Seacrest from any unwanted, public controversy.
Awkwardness made its way into the broadcast anyway. Some comments from pre-show passersby were positive, while others were confusing, and it all made for less-than-stellar red carpet content from the typically newsworthy E!.
"Baby Driver" star Eiza Gonzalez delivered some intriguing parting words when she ended her interview with Seacrest by telling him, "Be good." (Sure, it could've been a choice goodbye phrase, but either way, it was heard.) Taraji P. Henson also threw in her two cents when talking about the amazing success of her friend Mary J. Blige, telling Seacrest, "The universe has a way of taking care of the good people, you know what I mean?" She gave him a smile and some side-eye. Was it a show of support or a slight? It's anyone's guess.
Others continued to praise Seacrest, including double-nominee Blige, who told him she "loves" him and acknowledged his chemistry with Kelly Ripa on "Live With Kelly & Ryan." (Ripa also popped by to tell her pal how "great" he was doing.) Seacrest also thanked Whoopi Goldberg for stopping as she smiled and said, "You know!"
ABC, who aired the live award show and their own red carpet pre-show, spoke with many A-listers and Time's Up supporters ― those who Seacrest and co. couldn't wrangle.
Saoirse Ronan, Viola Davis, Mira Sorvino, Ashley Judd, Kumail Nanjiani and Emily V. Gordon, Lin-Manuel Miranda, Greta Gerwig, Gary Oldman, Mahershala Ali and Sandra Bullock, to name a few, chatted with the varied hosts, who asked not only about their films but Time's Up and the current state of Hollywood.
After failing to get any more stars to stop and talk, Seacrest headed to the Roosevelt and joined Rancic for some sad fashion discussion, which included a comment about the lack of green dresses and the prevalence of the shade of "nude."
Yet even though the Jennifer Lawrence and Laura Dern types didn't stop for an interview with Seacrest, he still managed to do pretty well, all things considering. His first hour and change of coverage was solid enough, showing that both Hollywood and the world are torn on whether or not to believe him or his alleged victim.
One reason Seacrest, a fixture in live TV and an established producer worth over $380 million, might have earned his spot on the carpet is because he is a part of the machine that runs Hollywood. He's a boss himself, a power player in the ranks, a bigger success than most at the Oscars and a friend of many a celebrity. Seacrest gets a pass because he's used to handing out the tickets.
Me Too momentum seemed to building in awards season. Remember the Golden Globes? Black gowns and suits covered the carpet, and Time's Up pins were prominently displayed as stars spoke at length about the powerful movement while standing beside impassioned activists. The tenor of discussion on the Oscars red carpet, or lack thereof, is telling. Was the movement another passing phase for Hollywood? Why did hosts and celebrities alike neglect to think discussions about sexism, pay disparity and harassment in the industry were appropriate for the night?
Unlike the pre-show, the live Oscars show addressed the impact and importance of Time's Up with a powerful segment highlighting the trailblazers, which Harvey Weinstein accusers Ashley Judd, Annabella Sciorra and Salma Hayek introduced. Those sound bites are what we needed to hear from start to finish.
If only Laura Dern had made her way down the carpet to Seacrest and confronted him with a tough question. Maybe this would have been a different story. Unfortunately, male power prevails.
Before You Go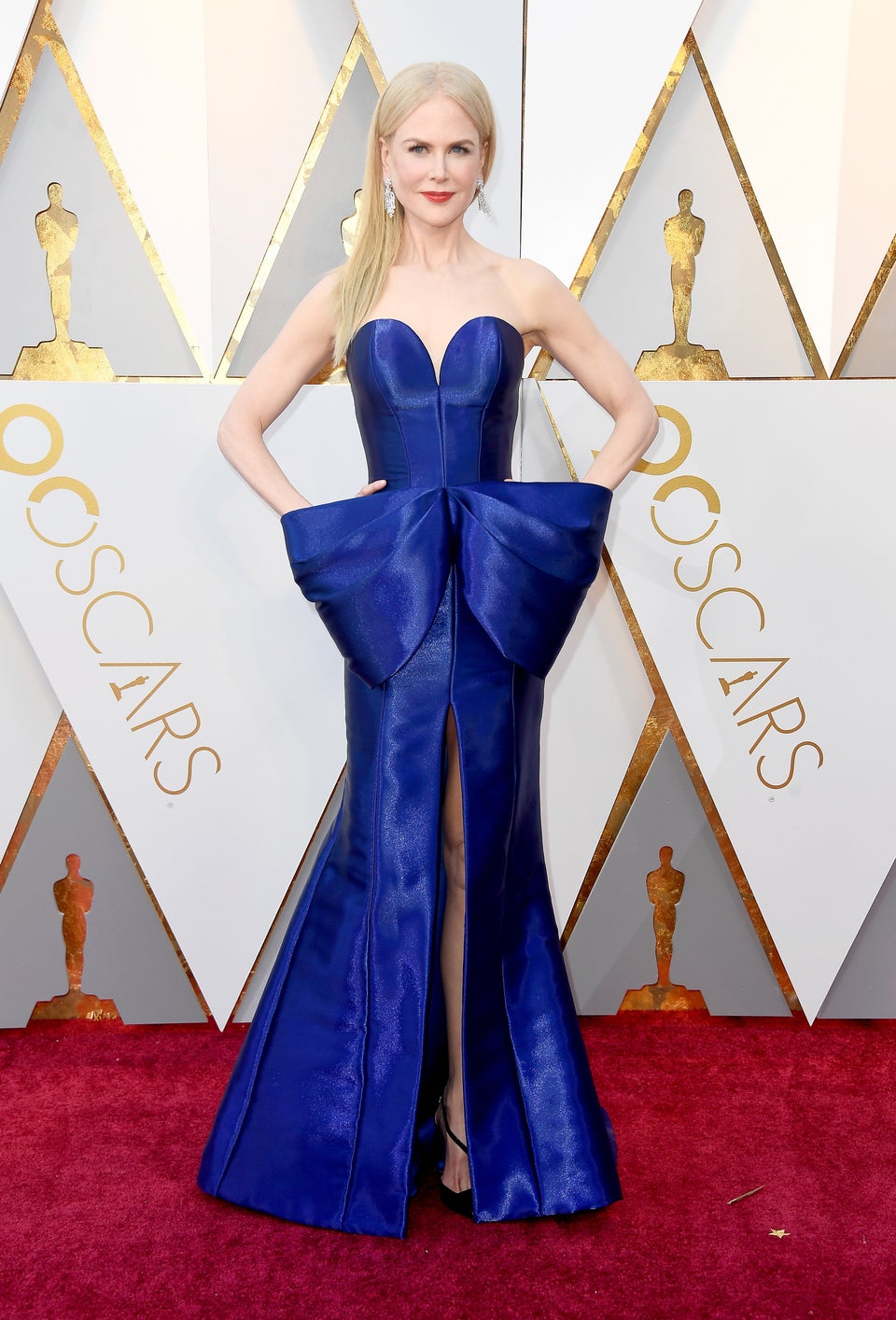 Oscars 2018 Red Carpet Looks
Popular in the Community