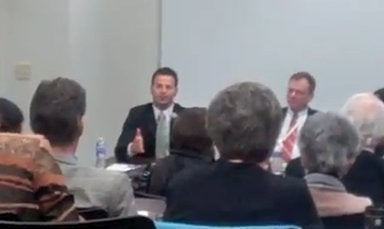 Young Conservatives of California Chairman Ryan Sorba doesn't believe in gay identity, and says that the word 'gay' should be replaced with terms such as 'sodomy' and 'unnatural vice,' according to the Examiner.
A YouTube video shows Sorba speaking at the second annual Awakening conference at Liberty University on the subject of Religious Liberty and the LGBT Agenda: A Zero Sum Game in the Military and Beyond.
During his speech, Sorba clued the panel's audience into the dangers of 'gay': "Stop using the word gay, because if we continue to give [gays] this term...we're conceding the premise that it is an identity and the rest of the debate, we're on their ground, we're arguing on their terms," he said. "He who defines the terms controls the debate and by extension public opinion...I don't believe anyone is born gay."
Sorba goes on to call the term 'gay' a left wing socio-political identity and to ask listeners to refer to gay individuals as anti-Christian, according to the American Independent.
Sorba made headlines last year when he publicly condemned the 2010 Conservative Political Action Conference for inviting gay conservative group GOProud to sponsor the event.
Watch parts of Sorba's speech below, and check out the American Independent for more details on the event.
What do you think of Sorba's words? Should 'gay' no longer be used? Leave your opinion below.

Related
Popular in the Community