In a historic photo of Campus Martius from the first decade of the 20th century, streets are filled with pedestrians. Urban (how fitting), a 25-year-old nursing student and EMT who previously studied design, meticulously colorized a panoramic photograph to show the city as it would have looked at the time.

Image by Ryan Urban. Click here to open a larger version of the image and get a closer look at Urban's detailed coloring.
Urban used Photoshop to modernize the black and white photograph, creating 585 layers of different colors.
"I like to think of it like a grown-up version of coloring books," Urban wrote in an email to The Huffington Post.

Library of Congress, Prints & Photographs Division, Detroit Publishing Company Collection, LC-D4-15570. Click here for larger version.
"Colorizing photos is a great way to bring history back to life in a more relatable way," Urban wrote. "And as it turns out, my fun little hobby has turned itself into a great way to reach people from all around the world. I've done photos for people from India and Norway to Germany and Montenegro (to name a few)."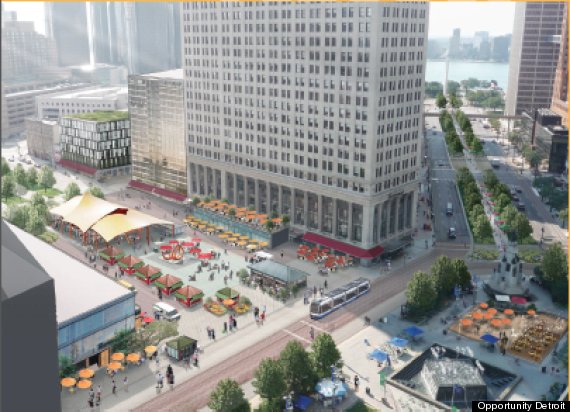 A rendering of future Campus Martius.
In a overview document, planners explain that Campus Martius will be "the heart of retail activity and pedestrian paths stretching up and down Woodward Avenue, west on Monroe to a new entertainment district and Greektown beyond, and across the street to Cadillac Square. It will truly 'reach out like an octopus' to activate the downtown core."
Gilbert's plan, created with other stakeholders and urban planners, calls for new businesses and retail in the buildings surrounding Campus Martius, the adjacent Monroe Lot to be redeveloped with food, live music and theater and neighboring Cadillac Square to revive its past use as an outdoor marketplace.
When Urban revived the historic Campus Martius scene, he attempted to be as true to the past as possible:
A lot of the colorization process is educated guesswork, but I make sure to do as much research as I can on the photo before I color it ... For the buildings that are still there, I can just use google to find current pictures (google maps and street-view are particularly helpful). For everything else, I had to rely on hand colored postcards from the hotels that were around at the time, as well as old advertisements to make sure that I was going in the right direction. Historical accuracy is my first goal with these photos and I like to take pride in the little details. The courthouse statues, for example, are a nice greenish color today due to the metal oxidizing over time. However, the photo was taken roughly 5 years after the original construction of the courthouse, so the statues would have been a more copper color. It's the little things that make it, I think.
Support HuffPost
The Stakes Have Never Been Higher
Related
Before You Go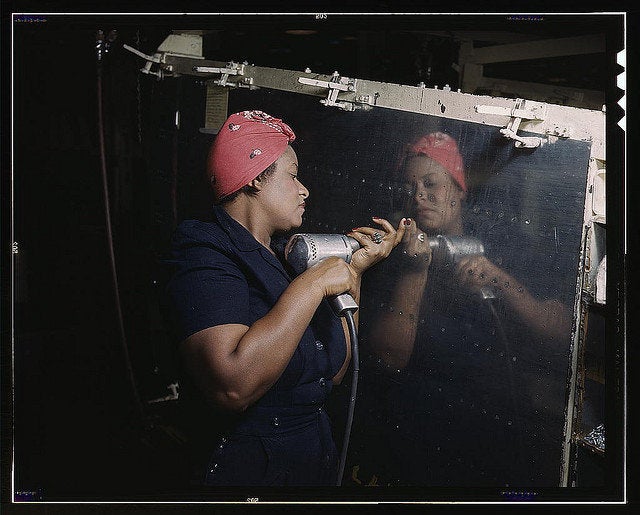 Rare Color Photographs Of World War II Era America
Popular in the Community