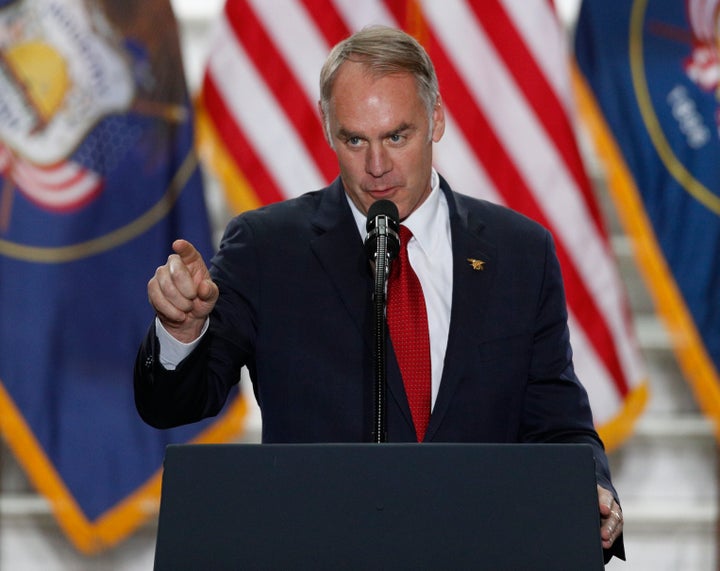 WASHINGTON — Over the most recent congressional recess, a conservative political group ran a campaign-style TV advertisement in Washington that is adding to the speculation that Interior Secretary Ryan Zinke has loftier political aspirations.
The ad features sweeping views of several national parks and a close-up of a smiling Zinke, and it calls on viewers to phone their senator in support of the interior secretary's proposal for tackling the park system's estimated $12 billion maintenance backlog.
"From sea to shining sea, they're America's national treasures," says the narrator. "But for too long, Washington has neglected our national parks. Now, Donald Trump's Interior Secretary Ryan Zinke wants to change that."
The American Economic Freedom Alliance, a secretive political nonprofit with ties to Vice President Mike Pence, paid for the ads. The group has a history of both supporting and pushing Republicans. The Indianapolis Star reported in March that the nonprofit ran more than $330,000 in ads applauding Rep. Luke Messer (R-Ind.) for fighting to end tax credits for undocumented immigrants. Messer is one of three Republicans vying for a chance to take on Sen. Joe Donnelly (D-Ind.) in November. And last year the organization ran television and digital ads aimed at persuading three Republican congressmen from New York to repeal an insurance tax that was part of Obamacare, Politico reported.
The nonprofit is registered to the same address in Alexandria, Virginia, as Republican media agency IMGE. Marty Obst, one of Pence's senior advisers, is also a senior adviser at IMGE. He also appears to oversee the American Economic Freedom Alliance, according to a January Twitter post from the nonprofit's research director, Matt St. Clair.
The Zinke ads ran on cable networks Fox News and MSNBC from March 26 to April 6, but only in the Washington area ― an odd choice, since district residents don't have a voting representative in the U.S. Senate. The group paid $73,000 for a total of 75 spots, the majority of which aired only inside the Beltway, according to information HuffPost obtained via a media consultant.
As a nonprofit, the American Economic Freedom Alliance is not required to disclose where its donations come from.
Zinke has repeatedly vowed to address the ballooning maintenance backlog at national parks, which is estimated at $12 billion. The Trump administration's 2019 budget request laid out a legislative proposal for a "Public Lands Infrastructure Fund" for park improvements using revenue from oil drilling and other energy development on public lands and in offshore waters. In March, a bipartisan group of lawmakers in both the House and Senate unveiled a bill based on the administration's proposal to provide up to $18 billion.
Zinke, a former Montana congressman and Navy SEAL, touts himself as a conservationist in the mold of President Theodore Roosevelt. But in his first year as chief steward of America's natural resources, he has prioritized energy development over conservation.
Craig Holman, a government affairs lobbyist for the progressive consumer rights advocacy group Public Citizen, told HuffPost it is "unusual," but not unheard of, for an outside group to buy expensive ads praising Cabinet officials. Along with promoting a Pence ally, Holman expects the ad was aimed at helping to "get Zinke's name in the public sphere" ahead of a future candidacy.
Although he has recommended Trump roll back national monument designations in states including Utah, Oregon and California, Zinke has proposed the creation of a 130,000-acre monument in his home state of Montana. He also supports a ban on new mining in Paradise Valley, in southwestern Montana just north Yellowstone National Park ― both of which add to speculation that he may be setting up a run for governor or Senate.
"I think he wants to be governor of Montana, then president of the United States," Land Tawney, president and chief executive of Backcountry Hunters and Anglers, a Montana-based nonprofit dedicated to protecting public lands and preserving opportunities for hunting and fishing, told HuffPost in a recent interview.
Kate Kelly, public lands director at the left-leaning Center for American Progress and a former interior official in the Obama administration, called the TV ads "really curious."
"I kept waiting for the 'Ryan Zinke for President' logo to appear," she told HuffPost via email. "The timing and targeting of the buy makes it hard to believe that it had any serious policy aims but was more about trying to salvage Zinke's image using national parks as a backdrop."
At a congressional appropriations hearing last week, Zinke said the administration's budget proposal "calls for the largest investment in public lands infrastructure in American history" and that establishing a fund to rebuild parks was his "top priority."
PolitiFact recently rated Zinke's infrastructure claim as "false." It noted that President Franklin D. Roosevelt's $3 billion investment in the Civilian Conservation Corps in the 1930s would amount to $53 billion today and "accounted for vastly more than the Trump proposal as a percentage of federal spending at the time."
Support HuffPost
The Stakes Have Never Been Higher
Popular in the Community