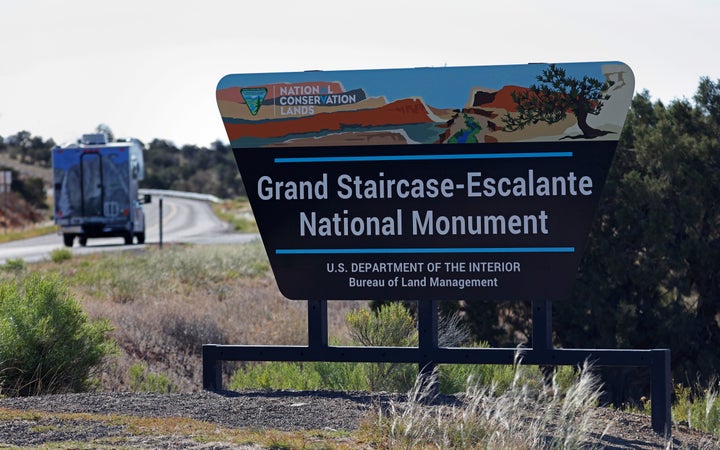 Following 48 hours of blistering public outrage, the Trump administration has scrapped a proposal to pawn off more than 1,600 federal acres that until recently were protected as part of Utah's Grand Staircase-Escalante National Monument, the Salt Lake Tribune reported Friday.
The recommendation ― buried in a draft resource management plan and first reported by HuffPost ― called for the "disposal" of 16 parcels of federal land, including 120 acres adjacent to property owned by Utah state Rep. Mike Noel (R), an ally of the administration and a staunch opponent of the Clinton-era monument.
The Tribune reported that David Bernhardt, the agency's deputy secretary, sent a memo to Bureau of Land Management staff Friday that reversed the proposed land disposal. The memo reportedly states that the plan is "inconsistent" with Interior Department policy.
"The secretary did not see the proposal before it went out and was not happy about it," a senior Interior Department official told the Tribune, referring to Interior Secretary Ryan Zinke.
The 16 parcels "identified for disposal" in the draft BLM plan are among the more than 850,000 acres that President Donald Trump stripped from the Grand Staircase-Escalante National Monument late last year.
One parcel ― 120 acres east of Kanab ― is adjacent to 40 acres owned by Noel, land that was removed from the monument as part of the sweeping rollback. Noel was among the Utah officials who advocated shrinking the protected site and applauded Trump's decision to do so. In fact, he attempted to rename a Utah highway after Trump as a thank-you.
Earlier this week, Noel told HuffPost he was unaware of the proposal but found it "interesting." He worked for the BLM in Utah for more than 20 years and resigned from the agency shortly after Grand Staircase-Escalante was established in 1996. He's been a fierce opponent of the agency ever since.
Over the last two days, Zinke has faced intense backlash from conservationists and public lands advocates. Trump and Zinke have repeatedly said they oppose selling off federal lands. In fact, it was over this very issue that Zinke — a former Montana congressman — resigned as a delegate to the Republican National Convention in 2016. In a speech one day after arriving at his new post, Zinke made a promise to Interior Department staff: "You can hear it from my lips: We will not sell or transfer public land."
Zinke has also repeatedly hit back at environmental groups, namely outdoor retailer Patagonia, that have accused him and the president of stealing public lands by rolling back monument protections. "There's not one square inch, not one square inch, of land that is removed from federal protection," Zinke told Fox Business in December.
In a statement, the Center for Western Priorities called Friday's reversal a "monumental land sell-off flip-flop" and questioned whether Zinke has any idea what's happening at his own agency.
"He was caught red-handed trying to sell off our public lands to his political supporters," Jennifer Rokala, the nonprofit's executive director, said in an email. "It's only after two days of terrible news stories that he is now changing direction. In the end, this changes very little about the plan to open up the national monument to unfettered drilling and mining for the benefit of Zinke's industry friends."
Late last year, on Zinke's recommendation, Trump cut the 1.87 million-acre Grand Staircase-Escalante, the largest land national monument in the country, roughly in half. The president also slashed the nearby 1.35 million-acre Bears Ears National Monument by 85 percent. The moves opened the door for oil, gas and other development on the land.
The BLM on Wednesday released draft resource management plans and environmental impact statements for both revised sites.
In its plan for Grand Staircase-Escalante, BLM said that its preferred alternative "emphasizes resource uses and reduces constraints while ensuring the proper care and management of monument objects." Compared with other proposed alternatives, however, it "conserves the least land area for physical, biological, and cultural resources" and "is the least restrictive to energy and mineral development," the document states.
Collin O'Mara, president and CEO of the National Wildlife Federation, told HuffPost on Friday it is clear to him that BLM didn't take into consideration Zinke's priorities.
"I think that [Interior] pulling it back immediately shows that they're trying to have greater balance between their conservation strategy and energy dominance," he said.
The Department of the Interior and the BLM in Utah did not respond to HuffPost's request for comment.
Earlier this week, Kimberly Finch, a spokeswoman for the BLM in Utah, told HuffPost that under the Federal Lands Policy and Management Act of 1976, the agency "is required by law as part of its land use planning process to identify lands potentially suitable for disposal." She noted that the draft plan includes various alternatives and no final decision has been made.
That interpretation of the law was challenged by Nada Culver, senior counsel for the nonprofit Wilderness Society. "The actual direction in the law is for the BLM to keep public lands in public ownership unless it is otherwise in the national interest," she told HuffPost on Thursday.
Indeed, the law states that "public lands be retained in Federal ownership, unless as a result of the land use planning procedure provided for in this Act, it is determined that disposal of a particular parcel will serve the national interest."
Many critics saw the proposal as a carveout for Noel. On Friday, the Southern Utah Wilderness Alliance, a nonprofit conservation group, posted a map that shows Noel also owns more than 200 acres south of the land that the BLM has identified for possible sale. The 120-acre federal parcel, if Noel were to purchase it, would give Noel a contiguous 420-acre chunk of land.
The Federal Lands Policy and Management Act of 1976 allows for tracts of public land to be considered for sale if they meet certain criteria, include being "difficult and uneconomic to manage" or if a sale would "serve important public objectives," including the "expansion of communities and economic development." It also for the secretary of the interior to sell such lands "with modified competitive bidding or without competitive bidding," and to give preference to adjoining landowners.
The BLM draft plan does not specify why the parcels were identified.
Friday's flip-flop from Interior comes one day after a dizzying display of misinformation from the administration about climate change's effect on catastrophic wildfires.
Popular in the Community