Interior Secretary Ryan Zinke fired four senior staffers at the Department of the Interior for inappropriate conduct in response to a bombshell employee survey revealing widespread harassment within the agency.
The misconduct included various forms of intimidation and discrimination including sexual harassment, department spokeswoman Heather Swift told The Associated Press.
"I've already removed four senior leaders that were guilty of inappropriate behavior and I will remove 400 more if necessary," Zinke said in a video posted on the agency's website on Thursday. "Intimidation, harassment and discrimination is a cancer to any organization. However deep it goes, we will remove it from Interior."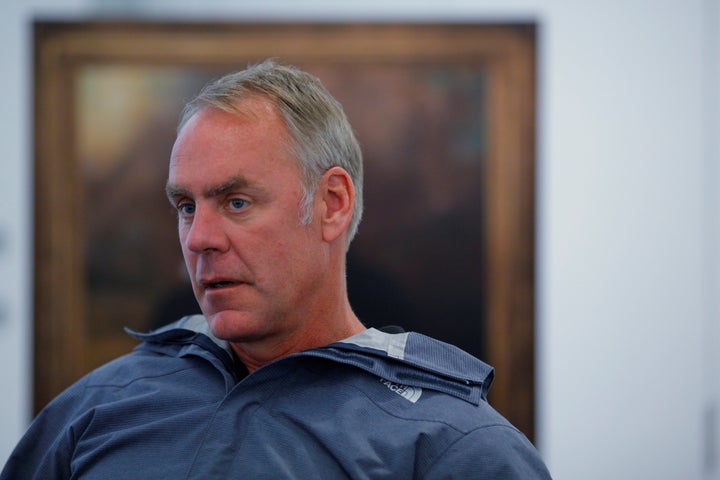 The same day, the agency released the results of a Work Environment Survey it conducted from January to March of this year. It determined that 35 percent of its 70,000 employees had experienced harassment or discrimination in the 12 months leading up to the survey. A total of 8 percent of staffers reported sexual harassment, 20.5 percent reported age-related harassment, 16.5 percent reported gender-based harassment and 9.3 percent reported race- or ethnicity-based harassment. 
Fewer than 36 percent of survey respondents who filed a complaint or report said some kind of action had been taken. Almost 40 percent were told to drop the issue.
"Under my leadership we don't protect predators," Zinke said in a statement. "When I say 'zero tolerance' I mean that these people will be held accountable for their abhorrent actions."
The agency didn't name any of the staffers it fired, but it points to this not being the first time it's had to deal with the issue. Tim Lynn, a former senior law enforcement official with the department, retired in May after an investigation determined that he had sexually harassed six women he worked with.
The department added that it's now drafting a new harassment policy, which will include a mandatory reporting process for allegations.
The survey comes on the heels of a March report that detailed the pernicious work environment for women within Yellowstone National Park. Employees of the U.S. Forest Service, National Park Service, and the Texas Parks and Wildlife Department have long complained of sexual harassment without much hope of a culture change. 
Calling all HuffPost superfans!
Sign up for membership to become a founding member and help shape HuffPost's next chapter