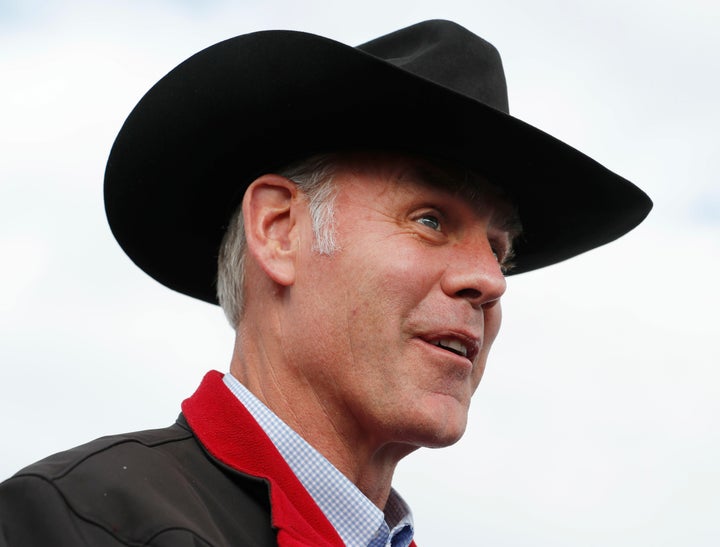 Interior Secretary Ryan Zinke appreciates nice things. His historic office at the agency's headquarters in Washington, D.C., features a bronze bust of his hero Theodore Roosevelt and a replica skull of a dinosaur discovered in one of the national monuments he helped shrink. Then there's the slew of taxidermy creatures: a bobcat, a bison named "Rosie" and a grizzly bear that Teddy apparently shot.
Since taking over the Interior Department in March 2017, Zinke has also accepted approximately 250 gifts, according to records HuffPost obtained via a Freedom of Information Act request. There are dozens of books, several pairs of patriotic socks, a hand-painted Navy SEAL duck decoy and a historic section of the original Oregon and California Railroad, inscribed with the secretary's name.
Here's a look at some of the more bizarre items Zinke has received. 
1. "U.S. Department of Alternative Facts" T-Shirt
In July, a Donald Schreiber sent Zinke a T-shirt that features a picture of the White House and the words "U.S. Department of Alternative Facts." 

2. A Personalized Hard Hat
In March, Phil Baker, the CEO of Hecla Mining Company, sent Zinke a hard hat inscribed with "Secretary of the Interior Ryan Zinke."
Zinke's support for the Idaho-based company goes back to his time as a Montana Congressman. Zinke has toured Hecla's sites and the company donated to his 2016 congressional campaign. In a May 2016 interview with One America News Network, Zinke called for officials to approve a pair of new mines that Hecla has been pushing for years to open in Montana. Zinke called it a "good project" that should have been approved a decade earlier, and said there is "no environmental hazard with mining." 
The Montana Department of Environmental Quality has labeled Hecla a "bad actor" because of a legacy of pollution by Baker's former company, Pegasus Gold of Spokane, Washington. Baker was the chief financial officer of Pegasus when it went bankrupt in 1998, leaving behind three contaminated mine sites in Montana. The ongoing cleanup of contaminants has cost $100 million, according to The Associated Press.
During an industry listening session last fall, Baker complained to Zinke about "impediments to mining from the permitting regime we have." Zinke quickly responded by saying, "On behalf of the United States government, we apologize."

3. A Pipe From Trans-Alaska Oil Pipeline
The Alyeska Pipeline Service Company gave Zinke a decommissioned pipe from its Trans-Alaska Pipeline System. The section apparently came from Pump Station 10, north of Glennallen.
Zinke traveled to Alaska in May 2017, where he and Sen. Lisa Murkowski (R-Alaska) posed for a photo alongside the Trans-Alaska Pipeline. Days later, he signed a secretarial order to "jump-start" oil production in Alaska, including in the pristine Alaskan National Wildlife Refuge.

4. A Constitution, Courtesy Of His Friends At Fox Business
Before Christmas, Maria Bartiromo, the global markets editor at Fox Business Network, sent Zinke a pocket-size copy of the U.S. Constitution and the Declaration of Independence. 

In February, Gregory Wrightstone, a geologist whom climate change denial groups like the right-wing Heartland Institute have embraced, gave Zinke a copy of his book, Inconvenient Facts ― The Science That Al Gore Doesn't Want You To Know.
Zinke received a second copy of the book from an unknown individual. 

6. A Benjamin, And Some Change
In January, a person named Melani C. Deer sent Zinke $100.11 in cash "to thank the Secretary for doing a great job," according to the documents. The agency notes that it returned the money to the sender along with a letter explaining why Zinke could not accept the gift. 
A Melani C. Deer, of Honolulu, Hawaii, donated $127 to Zinke's 2016 congressional campaign. A "melanic deer" is also a deer with a rare mutation that causes its hair to turn black. 

In July 2017, a couple of months after Zinke visited Bears Ears National Monument ― one of two protected sites in Utah that he and Trump later gutted ― members of the San Juan County Commission sent the secretary more than a dozen T-shirts with the logo "Be Nice." 
"Be nice," Zinke forcefully told Begay, holding his finger up near her face.  
Members of the San Juan County Commission fiercely opposed the Bears Ears monument and celebrated Trump's rollback. 
Bizarrely, each T-shirt came with a Tootsie Pop.

8. "Dumb and Dumber" Movie
American film producer Brad Krevoy sent Zinke two of his movies: "Dumb and Dumber" and "Taking Chance." Together they are valued at $12.89.

9. Mexico Extends An Avocado Branch
In May, Gerónimo Gutiérrez Fernández, Mexico's ambassador to the U.S., sent Zinke a case of 18 avocados. The value: $18.

10. A "Stuffed Rat"
In December, Zinke received a hat and a "stuffed rat" from Big Cypress National Preserve. Your guess is as good as ours. 

Here's a full list of gifts Zinke received between March 1 and Aug. 7:
REAL LIFE. REAL NEWS. REAL VOICES.
Help us tell more of the stories that matter from voices that too often remain unheard.