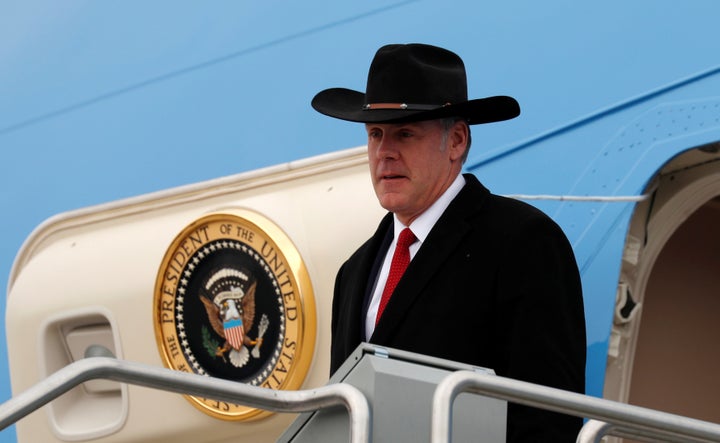 Interior Secretary Ryan Zinke spent thousands of dollars in taxpayer money to use government helicopters to travel to and from Washington, D.C., this summer, including a round-trip flight to meet Vice President Mike Pence for an afternoon horseback ride, according to a report by Politico.
The news site obtained copies of Zinke's travel logs through a Freedom of Information Act request and found that the secretary spent more than $14,000 on government helicopters, often citing his schedule and the timing of official trips as justification for the expense.
In one instance, the department spent $8,000 for a U.S. Park Police helicopter to take Zinke and his chief of staff to an emergency management exercise in West Virginia, saying the pair couldn't leave until 2 p.m. and the two-hour drive wouldn't see them arrive in time.
For the horseback ride with Pence, his office said he scheduled the $6,250 round-trip helicopter flight because he went to Yorktown, Virginia, to tour a battlefield and attend a boating industry roundtable but wanted to be back in Washington by 4 p.m. to ride with the vice president. It would have been three hours by car.
Zinke's office justified the travel as official business and slammed Politico for its media inquiries. 
"Shame on you for not respecting the office of a Member of Congress," Heather Swift, a spokeswoman for the Interior secretary, wrote to Politico. Zinke previously was a congressman from Montana.
The inspector general's office at the Interior Department is already investigating Zinke's use of taxpayer-funded charter flights after he came under fire for such travel along with other members of the Trump administration, including Environmental Protection Agency Administrator Scott Pruitt and former Health and Human Services Secretary Tom Price. Zinke and his staffers traveled on charter or military planes multiple times to go to events in Montana, his home state, and to islands in the Caribbean.
His office has defended the flights, and Zinke himself said the reports were "a little BS."
This isn't the first time Zinke has come under scrutiny for his behavior in office. Last month, HuffPost reported that the Interior Department's office worked throughout March to decorate the secretary's suite to his liking, which included mounting the heads of a bison and elk on the wall and moving a large taxidermy grizzly bear around.
Staff also had to accommodate the arrival of a $1,749 leather couch from California (including "white-glove delivery") and a stuffed bobcat from the U.S. Fish and Wildlife Service's collection.
Calling all HuffPost superfans!
Sign up for membership to become a founding member and help shape HuffPost's next chapter