Earlier this month, the Washington Post reported that when Zinke enters the building "a security staffer takes the elevator to the seventh floor, climbs the stairs to the roof and hoists a special secretarial flag." And when he goes home for the day, the flag — light blue and featuring Interior's bison seal and seven white stars, one for each of the agency bureaus that existed when the flag was adopted — comes down.
The problem isn't when Zinke is in the office, as his specialty flag made clear he was Wednesday afternoon, it's when he's gone.
If Zinke is away — say, manning the entrance station at Grand Canyon National Park or attending a National Rifle Association conference — a separate flag for deputy secretary David Bernhardt is swapped in, as the Washington Post reported. The story even included a photo of the flag for Bernhardt — identical to the one for Zinke, but white with blue stars — flying above the building.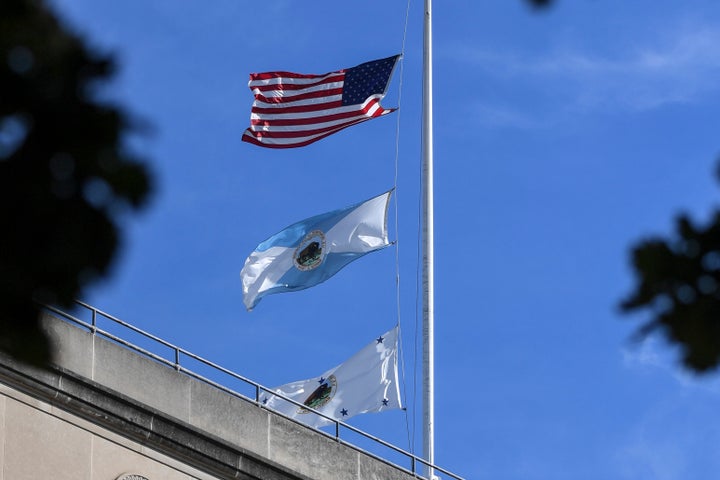 The Interior Department's manual — specifically Part 310, Chapter 5 — spells out which flags are allowed to be flown outdoors. "At the Secretary's direction, [the secretary's flag] may be flown over DOI-controlled buildings in which the Secretary is present."
The deputy secretary's ceremonial flag, however, "is for indoor display only, in the immediate office of the Deputy Secretary, and at official functions and ceremonies at which the Deputy Secretary is the principal speaker."

The Interior Department did not respond to HuffPost's request for comment Wednesday. In a statement to the Post earlier this month, however, spokeswoman Heather Swift defended the flag-flying ritual as "a major sign of transparency."
"Ryan Zinke is proud and honored to lead the Department of the Interior, and is restoring honor and tradition to the department, whether it's flying the flag when he is in garrison or restoring traditional access to public lands," she told the publication.
Support HuffPost
The Stakes Have Never Been Higher
Popular in the Community