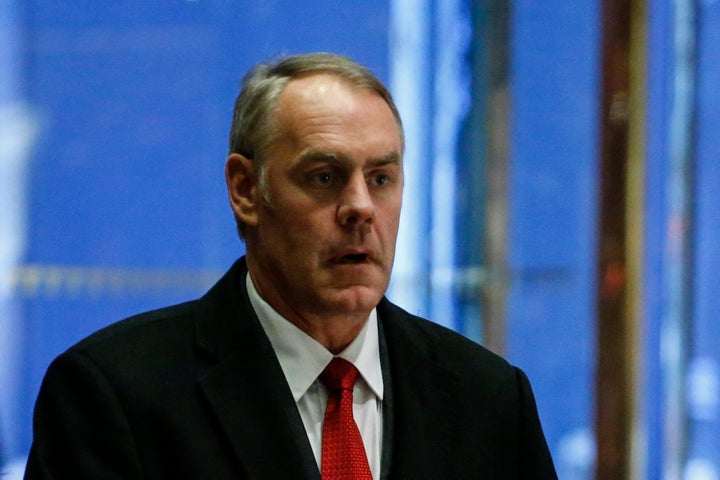 President-elect Donald Trump has tapped Rep. Ryan Zinke (R-Mont.) to become the next interior secretary.
If the Senate approves his nomination, Zinke, an early Trump supporter and former Navy SEAL commander, will oversee the National Park System, and drilling and mining on public lands. The announcement came two days after Rep. Cathy McMorris Rodgers (R-Wash.), who emerged last week as the top contender to lead the Department of the Interior, conceded in a post on Facebook that she didn't get the job, saying it was an "honor" to have been considered by Trump.
"America is the most beautiful country in the world and he is going to help keep it that way with smart management of our federal lands," Trump said in an announcement on Thursday morning. "At the same time, my administration's goal is to repeal bad regulations and use our natural resources to create jobs and wealth for the American people, and Ryan will explore every possibility for how we can safely and responsibly do that."
Slashing environmental regulations appears to be a top priority of the next administration, as Trump fleshes out his proposed Cabinet with climate science deniers and those who have alarmingly deep ties to the coal, oil and gas industries. Zinke has acknowledged that the climate is changing, but appears to have become bullish on fossil fuels in recent years.
"I think, without question, the climate is changing," Zinke said in a four-minute audio recording of a 2015 interview with a local Montana newspaper. "It has always changed, but it is changing. If you go up to Glacier Park and have your lunch on one of the glaciers, you will see the glacier recede while you eat lunch. I have seen the change in my lifetime."
But Zinke quickly veered into industry talking points, insisting he supports an "all-of-the-above" energy policy that includes coal mined in his state.
"Something's going on," he said. "I think you need to be prudent. It doesn't mean I think you need to be destructive on fossil fuels. But I think you need to be prudent."
In June, Zinke's office published a press release meant to "blast" Interior Department regulations on coal, oil and gas extraction on federal and tribal lands.
"As inscribed in the stone archway of Yellowstone National Park in Gardiner, Montana, I shall faithfully uphold Teddy Roosevelt's belief that our treasured public lands are 'for the benefit and enjoyment of the people,'" Zinke said Thursday in a statement. "I will work tirelessly to ensure our public lands are managed and preserved in a way that benefits everyone for generations to come."
Zinke, 55, described by The Washington Post as "a lifelong hunter and fisherman," has consistently voted against environmentalists. He has a paltry 3 percent on the League of Conservation Voters' scorecard. The Center for American Progress listed Zinke on its "anti-parks caucus," a collection of lawmakers the group says jeopardize the future of nature preserves.
The Department of Interior controls 500 million acres of land ― or roughly 20 percent of the U.S. landmass. It oversees a lot of oil, gas and coal development, both onshore and offshore. The agency also manages the outer continental shelf, a point of tension between the fishing and tourism industries and offshore energy developers, particularly after the 2010 BP oil spill in the Gulf of Mexico. Earlier this year, President Barack Obama paused oil drilling off the Atlantic Coast and halted new coal leases on public lands ― moves Trump seems likely to overturn.
In 2008, Zinke called himself a "Teddy Roosevelt Republican" who viewed climate change as a national security risk, according to a 2014 letter to the editor published by a Montana climate consultant in a local newspaper.
"If Ryan Zinke was running for Congress in 2010, he'd have my support. Because in 2010 he was unafraid to put leadership before politics," Steve Thompson, president of Whitefish, Montana-based Climate Realty LLC, wrote in the letter. "Sadly the opposite is now true. I now regard Zinke to be an unprincipled, self-glorifying, dangerously cynical phony."
This story has been updated to reflect the official announcement.
Support HuffPost
The Stakes Have Never Been Higher
Popular in the Community