Interior Secretary Ryan Zinke has joined a growing list of Interior Department officials who have committed seemingly clear violations of President Donald Trump's ethics pledge.
The embattled agency chief participated in discussions that involved his family foundation's land after stepping down as president of the group and pledging to recuse himself from such matters, according to documents obtained by The Washington Post.
The group, the Great Northern Veterans Peace Park Foundation, is involved in a development project in Zinke's hometown of Whitefish, Montana, that's backed by Halliburton Chairman David Lesar, as Politico first reported in June. Zinke and his wife could stand to benefit financially if the deal goes through. House Democrats later revealed that Zinke met with the project's developers in his government office last summer.
Zinke gave Whitefish city planner David Taylor permission to access the property, provided him with the combination for the gate and told him he was "working with" project developers to accommodate a parking lot on the foundation's land, according to an August 2017 email exchange published by The Washington Post.
The ethics pledge Zinke signed in January 2017 prohibits him from participating "personally and substantially in any particular matter" involving the foundation for one year.
The real estate deal is at the center of Zinke's ethical troubles. Last week, the Interior Department's internal watchdog referred one of its ongoing probes into Zinke's conduct to the Department of Justice, indicating there may be grounds for a criminal investigation. The New York Times and other news outlets subsequently reported that the DOJ investigation will likely focus on Zinke's apparent ongoing involvement with the land deal.
In a separate email exchange in June 2018, Zinke and Taylor blasted Politico's initial report about Zinke's ties to the development.
"Only fake news would make a mountain out of a sledding hill for kids," Zinke wrote. "As usual, the park is just trying to help whitefish on what appears to be a good project. I resigned right after i became secretary and lola is now president." Lola is Zinke's wife.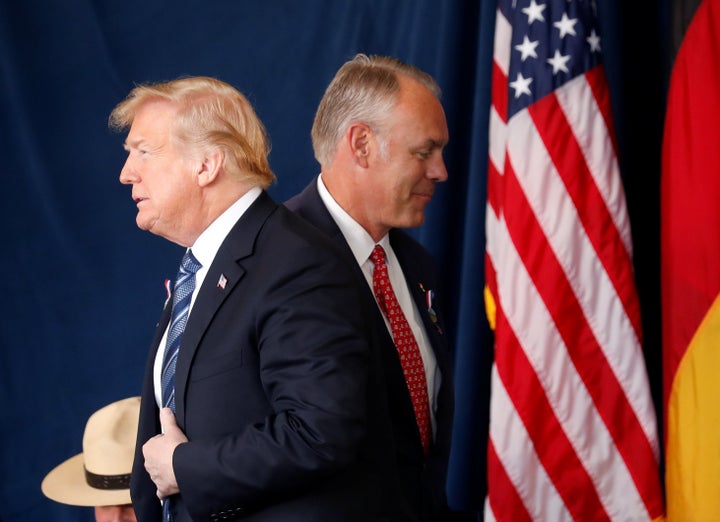 There have been numerous instances of apparent conflicts of interest among top Interior Department officials, according to reporting by HuffPost and other news outlets.
Last year, Lori Mashburn, the agency's White House liaison, attended two private events hosted by her former employer, the conservative Heritage Foundation, in a seemingly clear violation of federal ethics rules and the Trump pledge.
Ben Cassidy, a longtime lobbyist for the National Rifle Association who was appointed as the department's senior deputy director for intergovernmental and external affairs last year, participated in several agency meetings dealing with issues that he had lobbied Interior on while still with the NRA.
"Either he's violating it or the ethics pledge has no meaning," Virginia Canter, the chief ethics counsel at Citizens for Responsibility and Ethics in Washington, a government watchdog group based in Washington, D.C., said of Cassidy at the time.
Cassidy also appears to have played a sizable role in getting Zinke's International Wildlife Conservation Council off the ground. The 16-member council, which is tasked with advising Zinke about the benefits of international hunting, includes one of Cassidy's former NRA colleagues.
The ethics pledge bars appointees in the executive branch from participating "in any particular matter involving specific parties that is directly and substantially related to my former employer or former clients." It also prohibits former lobbyists for two years from participating in any particular matters on which they lobbied in the two years prior to being appointed.
Additionally, Todd Wynn, Cassidy's boss and director of the agency's Office of Intergovernmental and External Affairs, repeatedly scheduled meetings with his former employers. And David Bernhardt, the agency's deputy secretary and a former lobbyist at the firm Brownstein Hyatt Farber & Schreck, has met with several lobbyists for MGM Resorts International, the casino-resort giant that's also represented by his longtime former firm.
In April, Bernhardt announced that the agency had hired two new ethics officials. In his letter to staff, he said that during his tenure there have been "far too many reports from the Office of Inspector General of specific instances where employees have made decisions that were unethical and in some cases illegal." The new hires, he added, were part of the agency's "real commitment to make a meaningful contribution to incorporating the highest ethical standards."
In a statement to CNN last week, Zinke said of the DOJ probe: "It will be the same thing as all the other investigations … I follow all rules, procedures, regulations and, most importantly, the law. This is another politically driven investigation that has no merit."
Trump told reporters on Monday that Zinke has "done a very good job" but that he would "take a look" at the allegations.
"I haven't seen it yet, but I'll take a look," he said. "I'm going to look at any reports. I'll take a look. Certainly, I would not be happy with that at all.
Popular in the Community