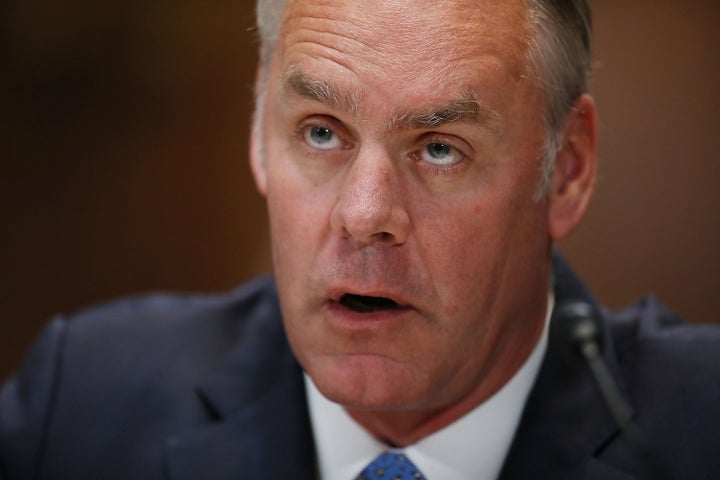 Zinke appeared on Breitbart Radio on Monday to defend his Japanese greeting to Hanabusa during a March committee hearing in which she asked him about funding for memorials that preserve the history of Japanese-American internment sites.
Zinke claimed that he felt the greeting was appropriate as his family had "lived through the years of the internment camps," and "has long since had friends that were Japanese families that went through that." 
The interior secretary added that he's "been to the Japanese war college at Etajima." Zinke said that he felt his greeting to Hanabusa was no different from "greeting anybody else in a language that's respectful," attempting to draw parallels to how people greet one another in Montana.  
"I grew up in Montana saying 'good morning,' saying 'good afternoon,'" he said on Breitbart Radio. "I think it's an appropriate salute."
Zinke's comments in March drew criticism across Asian-American civil rights groups. Many of them pointed out that his response was not only particularly flippant given the discussion surrounded a painful period of history but also that his comments reflected the stereotype that Asian-Americans are perpetual foreigners in the country.
Hanabusa told HuffPost that she feels Zinke's recent comments show he still "does not feel he has anything to learn on the issue of racial stereotyping."
"I will continue to ask this question because I have yet to receive an answer, does Secretary Zinke greet any other member of Congress in their ancestral language during official hearings or while conducting official business on behalf of Trump?" she said. "Does he generally greet people he does not know in their ancestral language? Racial stereotyping is an ugly reality in America. We have to call it out and push it away from the policymaking process."
Moreover, Hanabusa stressed that Zinke should take steps to understand what Japanese-Americans actually went through during World War II. Hundreds of thousands were rounded up and forced to live behind barbed wire ― a move that President Franklin D. Roosevelt and the Congress at the time authorized. It's important, Hanabusa emphasized, to ensure the mistakes of the past never happen again. 
"It was very clear from his testimony in March that the administration simply forgot that our nation was responsible for arresting and imprisoning more than 120,000 Japanese American men, women and children during World War II," said Hanabusa, whose own grandparents were imprisoned for their Japanese heritage. "We can never again allow racism and ignorance to create a policy that forces our country to imprison its people because of their ancestry, not because they committed a crime."
The congresswoman's initial question to Zinke during the hearing centered around the future of the Japanese American Confinement Sites Grant Program. The initiative was established by Congress to protect the sites of prison camps where Japanese-Americans were incarcerated. At the time of the hearing, Hanabusa had noted that President Donald Trump's administration had pulled funding for the program. Zinke had responded, saying he'll "look into" the issue. 
"My colleagues in the Congress, thankfully, came together in bipartisan fashion to restore the money in the current budget but we have a lot of work to do to ensure JACS grant program funding is continued during the current budget negotiations," Hanabusa told HuffPost. 
Zinke has defended his comment in the past. When addressing reporters following a tour of the U.S.-Mexico border in March, he asked, "How could ever saying 'good morning' be bad?"
Calling all HuffPost superfans!
Sign up for membership to become a founding member and help shape HuffPost's next chapter