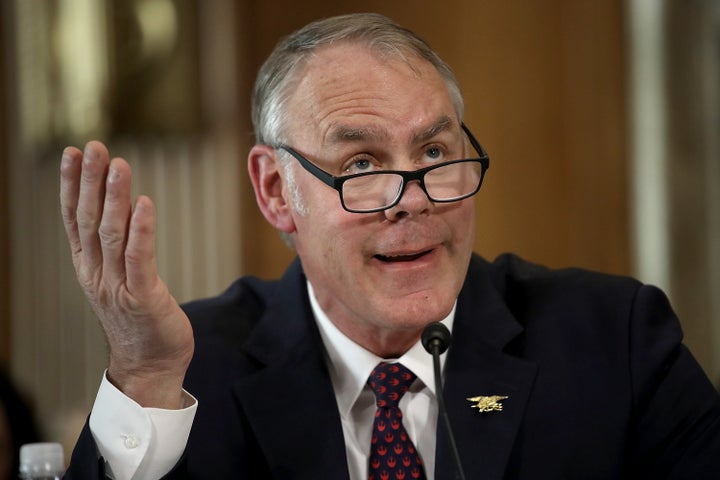 Interior Secretary Ryan Zinke defended his "konnichiwa" response to a House member of Japanese descent when she asked him about funding to preserve World War II internment camps.
"How could ever saying 'Good morning' be bad?" Zinke said to reporters on Saturday following a tour of the U.S.-Mexico border, according to The Arizona Republic.
Zinke made the comment ― which means "good afternoon" or "good day" in Japanese ― last week during a congressional hearing after Rep. Colleen Hanabusa (D-Hawaii) recounted that her grandfathers were among those imprisoned by the U.S. government for their Japanese heritage. The camps, she argued during the hearing, ought to be preserved to mark the memory of that ugly chapter in American history.
Several lawmakers and Asian-American civil rights groups criticized Zinke's ill-timed greeting.
Sen. Mazie Hirono (D-Hawaii) slammed the secretary for what she called his "flippant" and "juvenile" comment. Sen. Tammy Duckworth (D-Ill.) addressed the story by tweeting that "racism is not ok." Hanabusa accused Zinke of perpetuating racial stereotypes.
The exchange between Hanabusa and Zinke occurred as she urged the Trump administration to maintain funding for the Japanese American Confinement Sites (JACS) grant program, which provides financial assistance to organizations working to preserve the internment camps. The administration 2019 budget proposal would eliminate this funding.
Popular in the Community