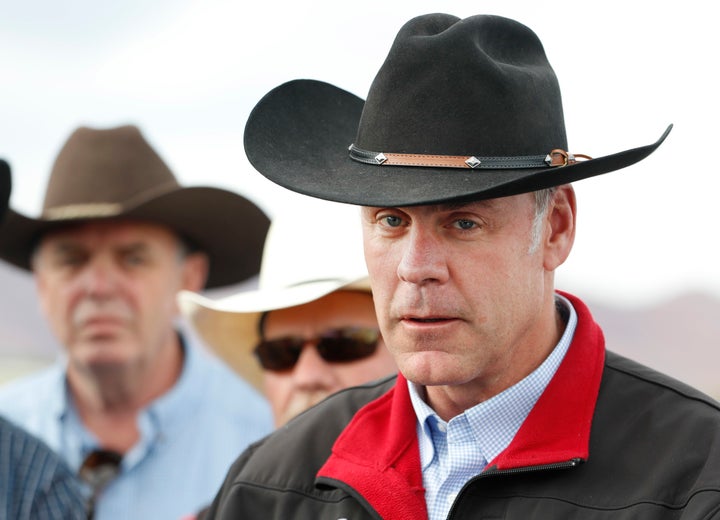 It was clear Interior Secretary Ryan Zinke felt at home Tuesday addressing representatives of the industry that was a top donor to his congressional campaigns. It's the same industry that the Trump administration has worked so hard to prop up over the last two years, and that Zinke now regulates as chief steward of America's natural resources.
"I see a lot of familiar faces," he told the National Petroleum Council during its meeting in Washington, D.C., before launching into a series of go-to talking points about the importance of producing domestic energy, namely fossil fuels, and downplaying the dire conclusions of a recent federal climate report.
Interior's "regulatory philosophy" is that the agency must partner with industry because "you are the leading edge of technology," Zinke told members of the advisory committee.
"We want to embrace better stewardship. We want to embrace reliability. In order to get there, we have to understand the technology. And in order to understand it, quite frankly, we have to work with you," he said. "I've been criticized [for] saying we want to work with you. I'll take the criticism."
Zinke was referring to controversial comments he made in September during a keynote speech at the Louisiana Oil and Gas Association's meeting in Lafayette, Louisiana. "Our government should work for you," he told the oil and gas trade group, according to a post by the association.
As head of the Interior Department, Zinke oversees some 500 million acres of land, or one-fifth of the United States, and 1.7 billion acres on the Outer Continental Shelf. It's a job that comes with the sometimes conflicting tasks of preserving and protecting public lands and waters for future generations while also setting the policies that govern extracting natural resources from them.
There were moments during Tuesday's speech where Zinke sounded like a seasoned oil man. He said he is "bullish" on energy and expects that within two years the U.S. will be "marching real close to" producing 14 million barrels of oil per day. And he agrees with Russian President Vladimir Putin that $60 per barrel is "a good spot to keep the economic engine" in good shape, he said.
"We've gotten a lot better as industry," Zinke said, quickly correcting himself. "You've gotten a lot better." He pointed to energy producers' success with domestic shale production, noting that companies have been able to turn a profit on oil from the Bakken fields in Montana and North Dakota when prices have been at around $30 per barrel. That, he said, "shows you how good we are and efficient we are."
Zinke also saw the friendly atmosphere as an opportunity to, once again, cast doubt on the latest federal climate assessment. The 1,600-page report was issued by 13 federal agencies, including Interior, and released on Black Friday, the day after Thanksgiving ― a move that many saw as an administrative attempt to bury the findings. Like so many other climate reports before it, the assessment warns that greenhouse gas emissions have put the planet on a path toward catastrophic climate change.
But instead of blasting the report's authors ― there are more than 300 ― for basing their findings on the most extreme scenarios, a false claim that he and the White House pushed last week, Zinke on Tuesday blamed the media among other targets.
"The media focused on worst-case scenarios, which statistically we may not even be able to reach," he said. "The facts of the matter is observable data, climate change is more toward the peace time," he added, comparing the document to international relations. "It's kind of like the military," he said. "There's peace time and there's global nuclear combat. The media focused on global nuclear combat."
In a parting shot on climate, Zinke also criticized young people.
"A lot of the millennials look at that report and they don't look at the models," instead focusing on "rising sea levels that statistically and data-wise we don't know," he said.
Zinke boasted to the room full of oil executives who have been primary beneficiaries of the Trump administration's denial of climate science and energy-dominance agenda, that the U.S. has "led the charge" in reducing carbon dioxide and other greenhouse gases. His "concern" as the leader of the federal agency, he said, is that "we need to be better at emphasizing the case for American energy."
Popular in the Community