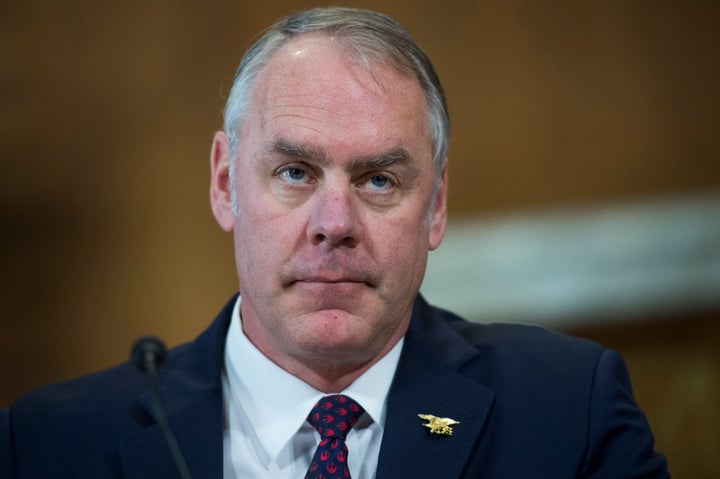 President Trump made the announcement on Twitter early Saturday, saying Zinke had "accomplished much during his tenure" and thanking him for his service.
Zinke had a tumultuous tenure as chief steward of America's natural resources, facing nearly 20 federal investigations ― one of which his agency's internal watchdog recently referred to the Justice Department for possible criminal violations ― and besieged by a steady drumbeat of unfavorable headlines. His departure comes as Democrats are set to take control of the House of Representatives on Jan. 3 and gain powerful subpoena authority. Raul Grijalva (D-Ariz.), one of Zinke's most vocal critics in Congress and the likely the next chairman of the House Natural Resources Committee, is among the lawmakers who promised to investigate his conduct and policy decisions. Last month, Zinke responded to Grijalva calling for his resignation by attacking the Arizona lawmaker's history of drinking: "It's hard for him to think straight from the bottom of a bottle," Zinke wrote in a post to Twitter.
Likely to step in as acting secretary is Deputy Secretary David Bernhardt, a former oil and gas lobbyist who has played a key role in many regulatory rollbacks during Zinke's time as agency chief.
In a statement posted to Twitter, Zinke said he is "extremely proud of all the good work" he and Trump accomplished but "cannot justify spending thousands of dollars defending myself and my family against false allegations."
"It is better for the President and Interior to focus on accomplishments rather than fictitious allegations," he added.
When Trump nominated Zinke, one of his early supporters, to lead the Interior Department, he said the former Navy SEAL would identify ways to "safely and responsibly" develop America's natural resources and play a key role in doing away with "bad regulations."
Zinke pegged himself as a champion of public lands and a conservationist in the mold of President Theodore Roosevelt. While he initially enjoyed some support from Democrats and environmentalists, many quickly turned on him as he cozied up to fossil fuel interests, embraced sweeping budget cuts that his boss proposed, and prioritized Trump's "energy dominance" agenda over habitat and resource conservation.
Theodore Roosevelt IV told HuffPost last year that his great-grandfather would have condemned the job Zinke had done and that many in the Roosevelt family were angry that Zinke repeatedly invoked their ancestor to misrepresent his own actions. He echoed those concerns in a phone interview Saturday and said Zinke missed "a golden opportunity" by failing to match his actions with his rhetoric.
"I think that Secretary Zinke was sort of torn between, as Lincoln put it, his bad angels and his good angels," Roosevelt IV said. "I'm afraid that while he was trying to do some good things, his bad angels won out. He wasn't willing to stand up against this president."
Environmental groups applauded Saturday's news.
"Ryan Zinke will go down as the most anti-conservation Interior secretary in our nation's history," Jennifer Rokala, executive director of the Colorado-based conservation group Center for Western Priorities, said in a statement.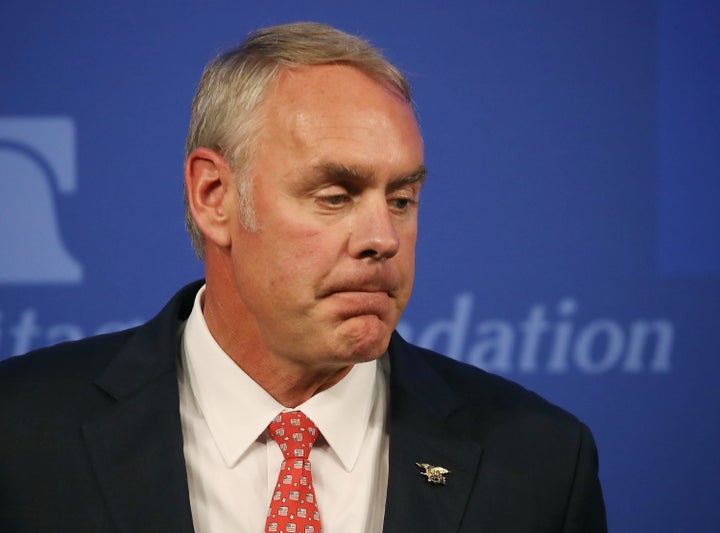 The administration ultimately backed away from the entrance fee proposal. And the government spending bill that Trump signed into law in March increased the park service's budget by 9 percent.
Like several other members of Trump's Cabinet, Zinke was the target of numerous ethics probes. He billed taxpayers for his use of private charter planes and government helicopters (instead of taking commercial flights) on at least three occasions ― a controversy Zinke characterized as "a little BS." The Interior Department's Office of Inspector General concluded in April that he "generally followed relevant law, policy, rules, and regulations," but that one trip ― a $12,375 chartered flight from Las Vegas to Montana aboard an oil company's plane ― was approved by ethics officials "without complete information" and could have been avoided.
Zinke's troubles escalated in October.
Citing an internal email sent to staff by Ben Carson, secretary of housing and urban development, The Hill and other media outlets reported that a Trump political appointee at HUD, Suzanne Israel Tufts, was set to replace Mary Kendall as acting inspector general at the Interior Department. But Interior spokeswoman Heather Swift denied the story, saying the media had jumped to conclusions. Tufts subsequently resigned as HUD's assistant secretary.
Days later, the Interior Department's inspector general determined that Zinke had violated government travel policies by bringing his wife along on taxpayer-funded trips. That probe found that Zinke had asked staff to explore making her a department volunteer, a move that would have legitimized her travel. The agency watchdog also concluded that Interior spent $25,000 to send a security detail with Zinke and his wife when they vacationed in Turkey and Greece, but that doing so did not break any rules.
On Oct. 30, The Washington Post and CNN broke the news that Kendall's office had referred one of its ongoing investigations into Zinke's conduct to the Justice Department, signaling possible criminal violations. It's unclear which probe was referred to Justice, although The New York Times reported it was likely the one looking at Zinke's ties to a real estate deal in his hometown of Whitefish, Montana, which is backed by Halliburton chairman Dave Lesar.
Responding to the news, Zinke told CNN that the Justice Department's investigation would "be the same thing as all the other investigations."
"I follow all rules, procedures, regulations and, most importantly, the law. This is another politically driven investigation that has no merit," he said.
Deputy Secretary Bernhardt is not without his own apparent conflicts of interests. As HuffPost reported, he's met on several occasions with lobbyists for MGM Resorts International, the casino-resort giant that his longtime former employer also represents.
In fact, Bernhardt has so many potential conflicts of interest that he carries a list around with him, The Washington Post reported in November.
Roosevelt IV told HuffPost that while Bernhardt is savvier than Zinke and knows the system, he "has little confidence that he will stand up to Trump" and represent the American people.
"We know one thing about Trump," Roosevelt IV said. "He will want people in that position, as he does in virtually every other position, who are malleable by him and have backbones of chocolate éclairs."
Popular in the Community