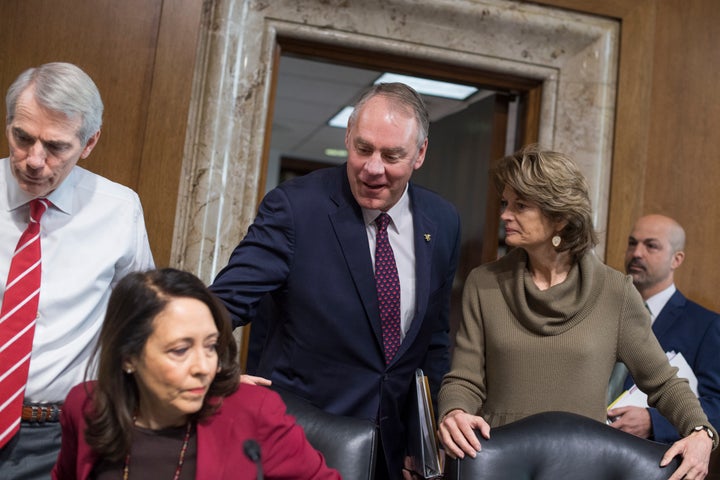 WASHINGTON — Interior Secretary Ryan Zinke on Tuesday swung back at critics of his use of private planes that the government has paid for, accusing one senator of slinging "insults" and "innuendos."
During a Senate committee hearing to discuss the administration's proposed budget for his department, Sen. Maria Cantwell (D-Wash.) asked Zinke if he thought it was "a mistake" to have chartered a flight from Las Vegas to his home state of Montana, which cost taxpayers more than $12,000.
"Insults, innuendos are misleading," said Zinke, visibly agitated. "I never took a private jet anywhere."
"I resent the fact of your insults," he told Cantwell. "I resent the fact they're misleading."
For his trip to Montana he flew on a Beechcraft King Air 200, a twin turbo-prop aircraft.
As he defended himself at the hearing, Zinke also claimed that his immediate predecessor as Interior secretary ― Sally Jewell, who served under President Barack Obama ― spent nearly $1 million on roughly 80 chartered flights. But those figures, reported by CNN in October, were for both Jewell and the Obama administration's first Interior secretary, Ken Salazar.
"Sally Jewell, I think she was right," Zinke said. "I think her travel patterns, even though she took a private chartered airplane, was met by helicopter and did a hike, I think she was right because as (interior secretary) she was out hiking and doing what she was supposed to be doing."
She said she could "talk a lot about private planes ... and doors, but there are also very important public policy issues here that I hope to focus on."
The doors reference also caused Zinke to bristle. He said he was prepared to go through his expenses "line by line."
He said voting to confirm Zinke to lead the agency was one of his "biggest regrets" during his time in the Senate.
"I've been shot at before. I'm very comfortable with it," Zinke, a former Navy SEAL, responded. "Do right. Fear no man. Do the best you can. Everything I do is scrutinized. ... I get raked all the time."
He added that he and his family are "pretty tough. We're a military family, we're pretty tough about it."
Popular in the Community